Egyptian Activist, Icon Of Tahrir Square, Gets 15-Year Prison Term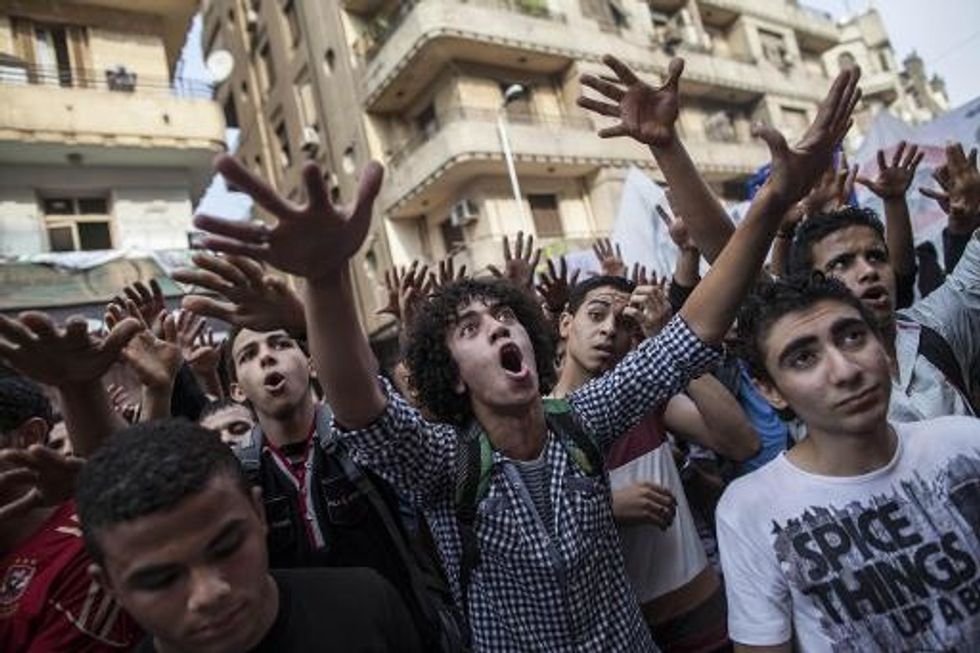 By Laura King, Los Angeles Times
CAIRO — In the first such verdict under Egypt's new president, a criminal court on Wednesday handed down a 15-year prison sentence against one of the leading figures of the 2011 uprising against Hosni Mubarak.
The heavy jail term for activist Alaa Abdel Fattah, who was arrested in November on charges that included violating a tough anti-protest law, appeared to bode ill for any easing of a wide-ranging crackdown on political dissent over the last 11 months in Egypt.
Two dozen others on trial along with Abdel Fattah also received 15-year terms and fines of nearly $14,000 each, making it the latest instance of a mass sentencing by an Egyptian court. International rights groups and legal advocacy organizations have said any semblance of due process is unlikely to occur in tribunals and verdicts involving dozens or even hundreds of defendants at once.
During the Tahrir Square uprising more than three years ago, the 32-year-old Abdel Fattah became internationally known as one of the young and social-media savvy faces of the pro-democracy movement. He comes from a family of prominent activists; his father is a distinguished human rights lawyer jailed under Mubarak, and his aunt is the novelist Adhaf Soueif, whose works have been translated into many languages. Abdel Fattah's wife and sister are also well-known activists.
Abdel Fattah had been freed in March after being held for nearly four months. He was re-arrested immediately after Wednesday's sentencing, for which he was not allowed into the courtroom.
The co-defendants in his case were among the first to be prosecuted under a law enacted in November, which criminalized street protests unless sanctioned by the government. Other charges levied against Abdel Fattah included assaulting a police officer. His backers say video evidence does not support that claim.
Egypt's new president, Abdel Fattah Sisi, took office on Sunday with pledges of political inclusiveness for all but those who advocate or commit violence. The interim administration that assumed power last July — in which Sisi, as defense minister, served as Egypt's de facto leader — jailed thousands of members of the Muslim Brotherhood of toppled Islamist president Mohamed Morsi, together with much smaller numbers of liberal secular activists.
Egyptian authorities say there are no political prisoners in the country, a claim dismissed by rights groups. This week, Human Rights Watch and Amnesty International jointly declared that Sisi was taking office amid "a human rights crisis as dire as any period in the country's modern history," and urged him to implement swift reforms.
The rights groups cited ongoing abuses, including use of excessive force by police and soldiers, mass arrests and torture, and sharply curtailed freedom of speech and assembly.
AFP Photo