Egypt's Likely New Leader Faces Economic Deja Vu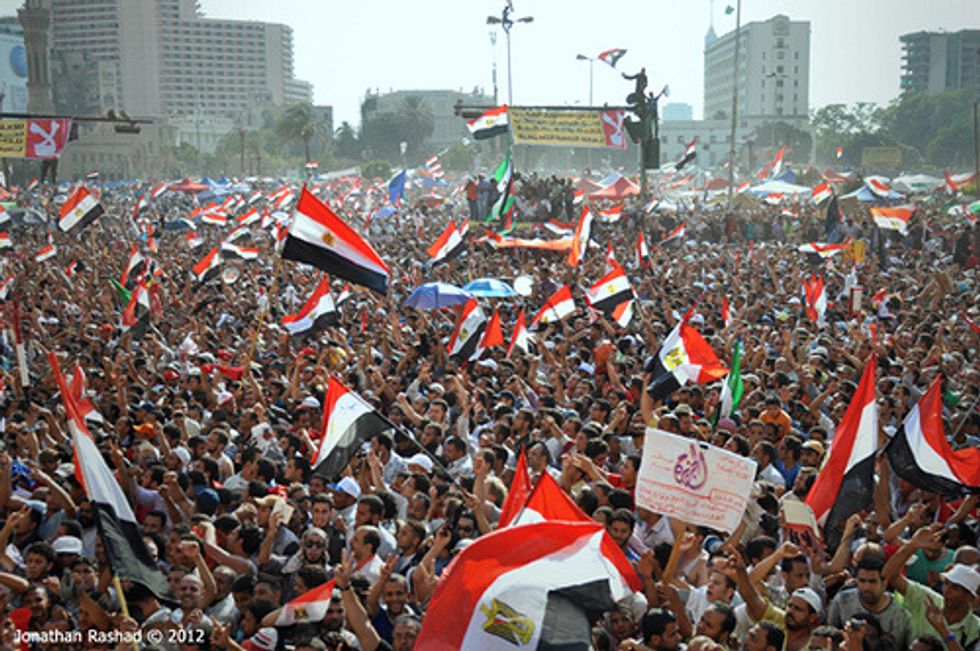 By Laura King, Los Angeles Times
CAIRO — With Egypt's former defense chief Abdel-Fattah el-Sissi on a glide path to the presidency, virtually every day brings an ominous new sign of what is likely to emerge as the greatest threat to his rule.
And it's not his archenemy, the Muslim Brotherhood.
It's the economy, floundering for three years since the revolution that toppled dictator Hosni Mubarak and entering dangerous new territory as multiple problems converge.
Public debt is mounting. Businesses and households swelter through power blackouts, sometimes several a day, and the energy shortfall is expected to worsen in the scorching summer months.
Unemployment stands at punishing levels, and months of labor strikes have sporadically hobbled sectors such as public transportation and health care.
The economy's growth rate, a tepid 2.1 percent in the last fiscal year, shows little sign of reviving. Tourism, for so long a financial mainstay, has plummeted since its pre-revolution heyday. International investors are wary, and foreign currency reserves are at half their pre-2011 levels, with little margin to protect against devaluation. The national budget is critically strained by heavy subsidies and a swollen public payroll.
"All these things are interconnected," said Ibrahim Awad, a professor of public policy at the American University in Cairo. "To address them, you need not just economic reforms, but political ones."
Egypt's military-backed government, which took power after removing unpopular Islamist President Mohammed Morsi from office last summer, would be hard-pressed to stay afloat financially if not for enormous aid packages from Persian Gulf states, led by Saudi Arabia — $20 billion worth of assistance since July, el-Sissi said in a televised interview this month. If the spigot is turned off, the fall is likely to come hard and fast.
Unemployment and economic stagnation were key engines of the revolution that deposed Mubarak, and the jobs picture now is uneasily reminiscent of pre-revolution times. The unemployment rate is about 14 percent, but the figure is nearly double that among the young, who as a group are less enamored of el-Sissi than the general public.
Joblessness blights lives, but so do crushing income inequality and a stultifying lack of opportunity, both hallmarks of Egypt's working poor. On a recent sun-blasted day, a street sweeper named Abdul took a break from his labors, squatting on the broken concrete of a dirty curb.
Abdul takes home only about 15 Egyptian pounds a day — just over $2 — to support a family of six. He said he could barely afford to feed his children, let alone educate them. He used to earn more money running a small fruit stand, but it failed two years ago.
"My life is a pit I can't climb up out of," he said. "I thought things would change after the revolution. But nothing has."
El-Sissi is mindful of the economic peril, devoting large portions of a wide-ranging two-part TV interview early this month to national finances. But he is a candidate who prizes his popularity, and he expressed reluctance to make decisive cuts to food and fuel subsidies that cost the state $28.5 billion annually — one-fifth of the budget. Despite urging from the World Bank and other organizations, el-Sisi has expressed reluctance to embark on such an unpopular austerity plan.
"You can't get rid of subsidies at once. … People won't tolerate it," he said. "We need to improve people's living standards first."
The energy crisis is another problem that has been years in the making, and it will now land squarely in el-Sissi's lap if he wins the presidency, as widely expected, in the May 26-27 vote. International oil and gas companies doing business with Egypt are beginning to complain openly, as British giant BG Group did last month, that they are not receiving promised allotments of liquefied natural gas, or millions of dollars in revenue owed them by the Egyptian government.
Access to electricity is a political tinderbox. Last summer, public anger over power cuts gave crucial impetus to huge demonstrations demanding Morsi's removal. Egypt's blast-furnace summer weather has not yet taken hold, although a recent heat wave saw temperatures soar above 100 degrees in the capital.
"It's one of the first things that could make people angry after (the election), because not having electricity gives the sense that things are being mismanaged, and it is something you are reminded of every day," schoolteacher Nabil Suleiman said. On a recent evening, sweat beaded his brow as he entertained guests at home, with battery-operated fans barely generating enough of a breeze to stir the curtains.
Energy conservation is simply not part of the national ethos, despite government campaigns calling for lower consumption. Egyptians well off enough to have air conditioning often acknowledge cranking it as high as they can to cool down their homes before the inevitable outage, redoubling the strain on the power grid.
"In the summer, I keep my home cold enough to need a sweater, for as long as the electricity lasts," said a foreign-educated physician who did not want his name published because he was abashed about setting a poor example. "Everyone does this, even if they know better. We're making the problem worse."
In Egypt, where things rarely work like clockwork, authorities last week reimposed daylight saving time in an attempt to conserve energy. But so abrupt was the move that computers and smartphones did not automatically update, causing many people to confuse the times of appointments or flights.
Egyptians are pinning their hopes for stability and security on this presidential vote, and many believe that some calm _ even if it means repressive measures — would improve the business climate. But el-Sissi, 59, a career military man until he stepped down this year to run for president, has vowed to press his battle with Islamists, which could carry long-term economic costs.
Terrorist attacks, which have risen sharply since the interim government's deadly crackdown in August against the Muslim Brotherhood and its supporters, have been a blow to the already-battered tourist industry, especially in the Sinai Peninsula with its popular Red Sea resorts.
So have near-daily street demonstrations by Morsi supporters in the capital; many tour operators bypass Cairo and the pyramids in adjacent Giza, instead offering direct flights from overseas to destinations such as Luxor, with its wealth of Pharaonic sites.
The Muslim Brotherhood denies that it is behind the violence; the government, though offering scant evidence of involvement, insists it is.
Photo: Jonathan Rashad via Flickr