Elections Matter: Terry McAuliffe Launches Governorship With New LGBT Protections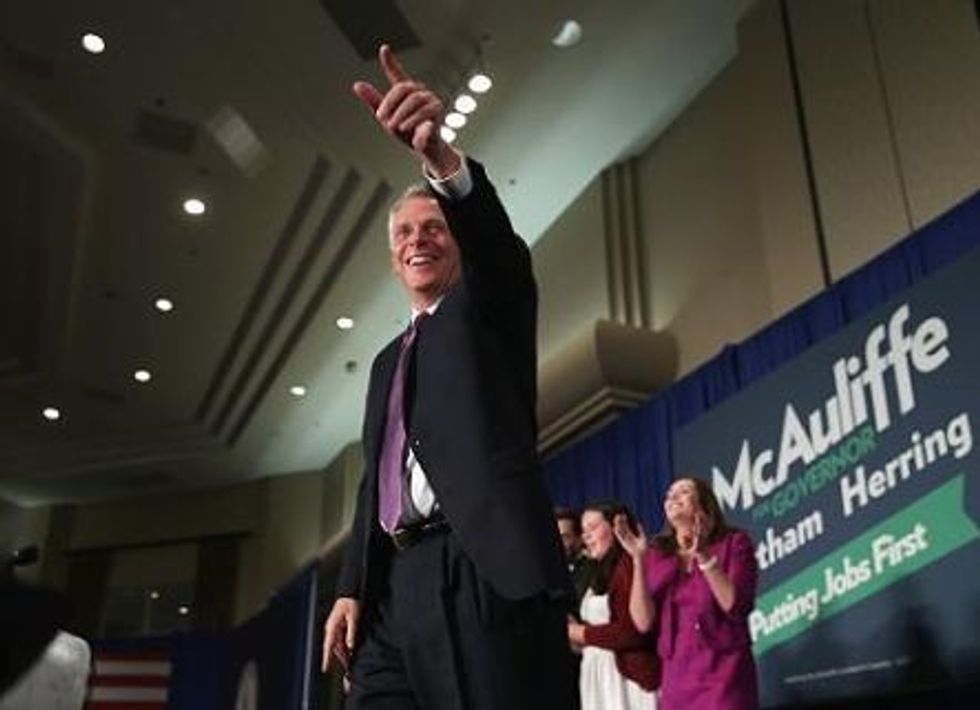 Immediately after his inauguration as the 72nd governor of Virginia, Terry McAuliffe made protecting LGBT workers from discrimination the first official action of his new administration.
On Saturday afternoon, Governor McAuliffe signed Executive Order Number 1, which "specifically prohibits discrimination on the basis of race, sex, color, national origin, religion, sexual orientation, gender identity, age, political affiliation, or against otherwise qualified persons with disabilities."
"My administration will work tirelessly to ensure that those opportunities are equal for all of Virginia's children," McAuliffe said during his inaugural address. "No matter if you're a girl or a boy, no matter what part of the Commonwealth you live in, no matter your race or religion, and no matter whom you love."
He later added that his administration would "ensure that someone can't lose a job simply because they are gay."
Gay and lesbian state workers had been protected from discrimination through executive orders from former governors Mark Warner and Tim Kaine — both Democrats, and current U.S. senators — but those protections were rolled back when Republican Bob McDonnell took office in 2010. McAuliffe is the first Virginia governor to offer explicit protection for transgender workers.
The executive order fulfills a campaign promise from McAuliffe, who vowed to make protecting the LGBT community from workplace discrimination his administration's first order of business.
It also provides a clear example of how immediately elections can impact Americans' day-to-day lives; such an executive order would never have come from McAuliffe's Republican opponent in the 2013 election, former attorney general Ken Cuccinelli. In fact, Cuccinelli — who has argued that "homosexual acts are wrong" and "it's appropriate to have policies that reflect that" — worked aggressively to weaken legal protections for the LGBT community during his time in office.
McAuliffe also signed three other executive orders over the weekend: two to ensure continuity of government in the event of a state emergency where the governor is incapacitated, and one — in a nod to McDonnell's Star Scientific scandal — establishing a $100 gift limit for members of the executive branch and their families, and creating an ethics commission to oversee the execution of the order.
AFP Photo/Alex Wong