After Emails Are Released, Pro-Trump Media Launch Flailing Defense Of Donald Trump Jr.
@AlKapDC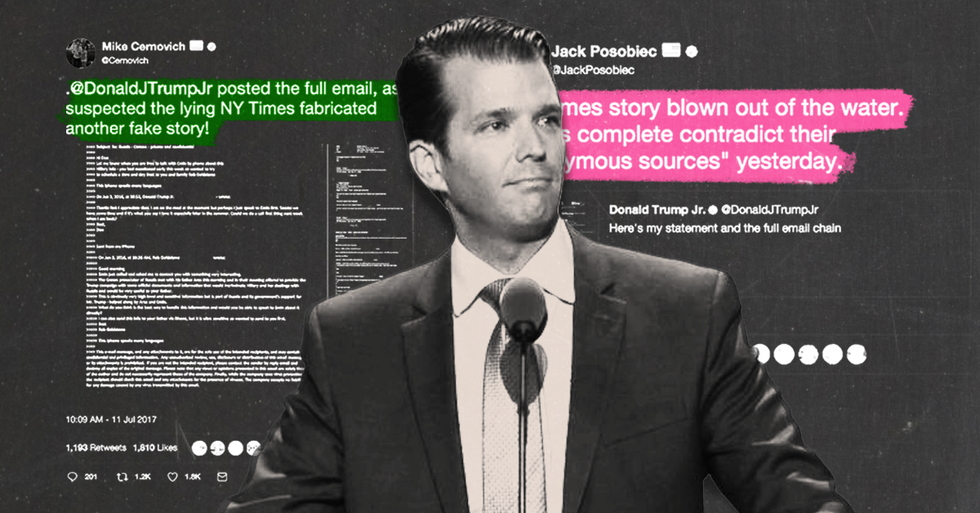 Reprinted with permission from MediaMatters .
Multiple pro-Trump far-right media figures falsely suggested that Donald Trump Jr.'s tweets in which he released a chain of emails about his meeting with a lawyer connected to the Kremlin somehow disproved The New York Times ' reporting on the issue.
The Times reported on July 8 that Trump Jr. met with "a Russian lawyer who has connections to the Kremlin," and the next day reported that Trump Jr. "was promised damaging information about Hillary Clinton before agreeing" to the meeting. Initially, Trump Jr. falsely told the Times that the meeting, which was set up by publicist Rob Goldstone on behalf of a Russian singer, was "primarily about an adoption program."
But on July 11, another Times report revealed details from email correspondence between Trump Jr. and Goldstone in which they arranged the meeting. Shortly before the Times published its July 11 report, Trump Jr. released emails between himself and Goldstone on Twitter to pre-empt the report, with the emails' content effectively confirming he had lied to the Times earlier.
Still, prominent pro-Trump media figures immediately jumped to Trump Jr.'s defense, absurdly suggesting that his released emails discredited the Times . Far-right troll Mike Cernovich wrote , "@DonaldJTrumpJr posted the full email, as suspected the lying NY Times fabricated another fake story!" Another far-right troll, Jack Posobiec , wrote , "NY Times story blown out of the water. Emails complete[ly] contradict their 'anonymous sources' yesterday." Jim Hoft of the fringe website The Gateway Pundit wrote that Trump Jr. "beat the #FakeNews media to the punch and released the ENTIRE email chain of his conversation with Rob Goldstone on a meeting with a Russian lawyer."
Anyone who actually reads the emails that Trump Jr. released can see that they confirm the Times ' reporting. The emails show that Goldstone told Trump Jr. that the "Crown prosecutor of Russia" offered to "provide the Trump campaign with some official documents and information that would incriminate Hillary … and would be very useful to your father." Goldstone also wrote, "This is obviously very high level and sensitive information but is part of Russia and its government's support for Mr. Trump." Trump Jr. replied to the email saying, "If it's what you say I love it." In a later email , Goldstone asked Trump Jr. about scheduling his meeting with a "Russian government attorney who is flying over from Moscow."
The response is yet another effort by pro-Trump media figures, some of whom have specifically lauded Trump Jr. in the past, to defend the president with false claims and smears against perceived opponents.
Header image by Sarah Wasko / Media Matters