Embarrassing Trump Tweet Contradicts New Press Secretary Grisham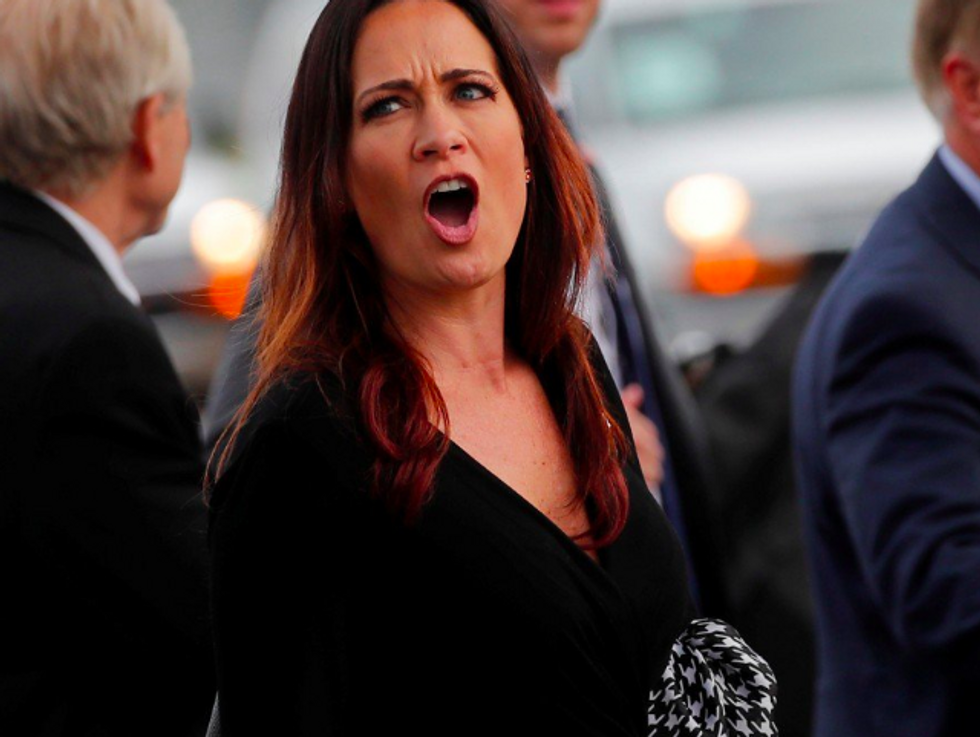 Just six weeks into her job as White House press secretary, Stephanie Grisham publicly humiliated herself in front of the world while attempting to cover for Trump.
On Thursday morning, as reports began to circulate that Trump was pushing for Israel to stop Reps. Ilhan Omar (D-MN) and Rashida Tlaib (D-MI) from visiting the country, Grisham was asked to comment.
At around 9 a.m., she said the stories were "inaccurate."
"It would show great weakness if Israel allowed Rep. Omar and Rep. Tlaib to visit," Trump then wrote at 9:57 a.m.
In under an hour, Trump successfully pulled the rug out from under his top spokesperson.
Grisham's time in the job has been marked by her decision to continue the tradition of her predecessor, Sarah Huckabee Sanders, in avoiding questions from the press. She began her job on July 1 but has not held one on-camera briefing.
It has been 157 days since the last White House press briefing, which was given on March 11.
Grisham's only on-camera media appearance as press secretary was a recent interview with longtime Trump fan Eric Bolling that was aired on pro-Trump network Sinclair.
The negative experiences her predecessors had trying to clean up Trump's commentary do not bode well for Grisham in the future. Right from the start in 2017, then-press secretary Sean Spicer became the butt of jokes from coast-to-coast after he went out at Trump's behest to berate the press for accurately describing Trump's inauguration as poorly attended.
Later that year, Trump purged then-FBI director James Comey for insufficient loyalty to him during the special counsel investigation of his campaign. Sanders, who was press secretary at the time, instead told the press in a briefing that Comey was removed because of a recommendation from the Justice Department. When that turned out to be a lie, she was quizzed on the deception in a briefing by reporters. Her own false statements about the affair were read to her, and she had to fumble for a response.
In 2018, Trump responded "no" to a question from a reporter asking if Russia is still working to attack the United States. Later that day in the press briefing, Sanders was asked about the denial, which contradicted warnings from intelligence agencies. She claimed that Trump didn't say no to the original question but had in fact been answering a completely different query. Reporters did not accept her spin and pushed for an honest response.
"Why should this president have any credibility, to Americans, in what he says if in fact 24 hours later — or in this case, 3 hours later — the White House comes out and says 'just kidding'?" asked NBC's Hallie Jackson, summarizing the logical contortions that had been made.
In April, after Trump was mocked by the French government for offering "advice" during the Notre Dame fire that would have destroyed the landmark, Sanders had to release a cleaned-up press statement expressing solidarity with the French people.
Grisham's humiliation is now part of Trump's tradition with his press secretaries. If they attempt to spin the day's events to serve his needs, eventually he will end up humiliating them.
Published with permission of The American Independent.