Emigdio Vasquez, Prominent Chicano Artist In Southern California, Dies At 75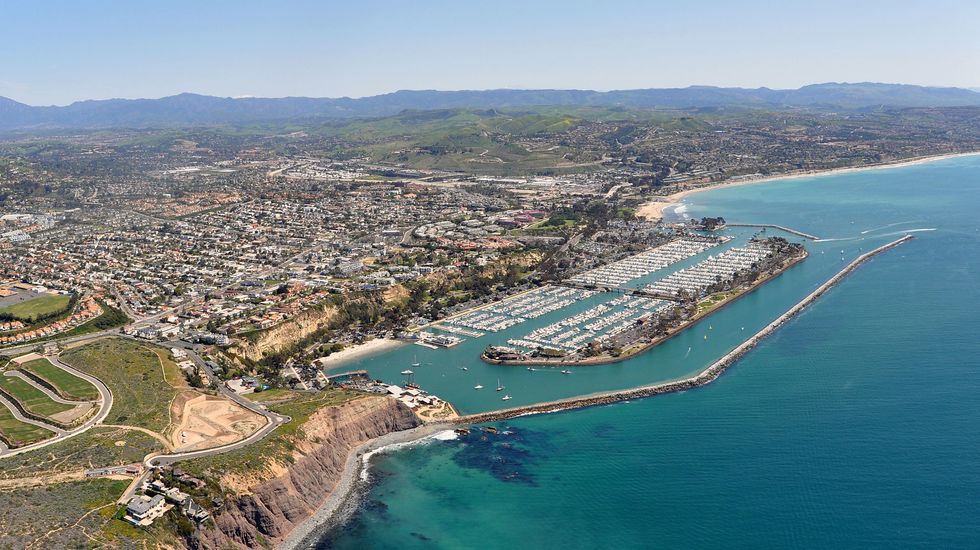 By Adolfo Flores, Los Angeles Times
LOS ANGELES — Emigdio Vasquez, a renowned Chicano muralist and painter in Southern California's Orange County whose pieces captured the reality and grittiness of everyday life, has died. He was 75.
Vasquez died Saturday of pneumonia at an assisted living facility in Newport Beach, his daughter Rosemary Vasquez-Tuthill said. He also had Alzheimer's disease.
Known as Orange County's Godfather of Chicano Art, Vasquez created more than 400 paintings and 22 murals throughout the county. The "Legacy of Cesar Chavez" at Santa Ana College is one of his most well-known works.
"My dad liked the gritty subjects, old people's skins, and the grittiness of the city," his daughter said.
In an artist statement posted on the University of California, Santa Barbara's library website, Vasquez wrote that he considered his art to be part of the working-class experience that surrounded his life.
"This environment holds inspiring visions of human warmth and cultural heritage," Vasquez wrote. "I want to convey to the viewer the intense reality which people experience. Art must be more than aesthetic or decoration. Art creates an environment which enlarges humanity."
Vasquez was born May 25, 1939, in the mining town of Jerome, Ariz. The family moved to the city of Orange, Calif., in the early 1940s when the mine closed, Vasquez-Tuthill said. As a child, Vasquez would sit and quietly draw, a characteristic he carried into adulthood.
"He was a very quiet observer," Vasquez-Tuthill said. "Unless he was around his friends."
Vasquez-Tuthill's earliest memory of her father was of him cooking menudo or leaning over a pressboard, a paintbrush in hand.
"In those days he couldn't afford canvases," she said. "He was always painting."
She once asked Vasquez what else he would have done if he wasn't an artist. He couldn't answer her, she said.
He earned an associate's degree from Santa Ana College before transferring to California State University, Fullerton, where he received his bachelor's degree and a master's in fine arts.
For his master's thesis, Vasquez painted an 85-by-64-foot mural in Orange as a tribute to the Chicano working class. A miner was modeled after his father, and other relatives and friends were the inspiration for laborers.
The Orange County district attorney's office associated the mural, "Tribute to the Chicano Working Class," with gang culture when it sought an injunction against a local crew. It upset Vasquez that prosecutors associated it with gangs, Vasquez-Tuthill said.
"Toward the end, a lot of gangs were hanging out there, but he did not like the fact that his murals were thought of as gang-related," Vasquez-Tuthill said.
Mike McGee, director of the Begovich Gallery at Cal State Fullerton, went to college with Vasquez and admired his ability to capture his subjects' facial expressions and characteristics.
"He had such an emphasis for people," McGee said. "Emigdio was very soft-spoken, but his paintings spoke volumes."
Heavily influenced by Mexican muralists David Alfaro Siqueiros, Jose Clemente Orozco and Diego Rivera, Vasquez felt a responsibility to document his community for posterity, McGee said.
Vasquez "wanted to make sure the people who lived in the community had a certain kind of dignity in the way they were portrayed," McGee said. "And that there would be documentation and evidence of their lives and existence."
In addition to Tuthill-Vasquez, Vasquez is survived by his five other children, Adolph Vasquez, Dora Asher, Emigdio "Higgy" Vasquez Jr., Sarah Acosta, Vera Perez; and his siblings Gilberto Vasquez, Javier Vasquez, Santiago Vasquez, and Licinia Blue.
Photo via WikiCommons
Interested in national news? Sign up for our daily email newsletter!