Endorse This: Fox Host Varney Says Plane Crash 'Good Politically For Donald Trump'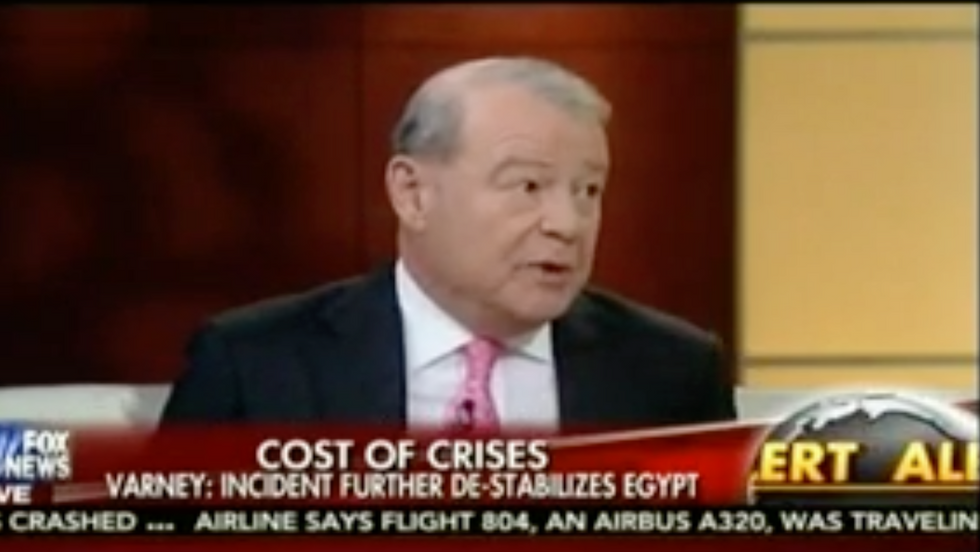 EgyptAir Flight 804 dropped out of the sky early Thursday morning somewhere over the Mediterranean Sea.
And you know what that means: A little later Thursday morning somewhere over Midtown, New York, Fox News personalities speculated about how the deaths of 66 people confirmed the grim worldview of a man their network has all but endorsed for the presidency.
"I also think this may be good, politically, for Donald Trump," Stuart Varney guessed. "He's already tweeted out saying 'This is probably terrorism,' I believe that's the nature of his tweet."
In fact, Donald Trump did tweet — before any official sources said anything about terrorism — that the plane was the victim of a terrorist attack.
Looks like yet another terrorist attack. Airplane departed from Paris. When will we get tough, smart and vigilant? Great hate and sickness!

— Donald J. Trump (@realDonaldTrump) May 19, 2016
"He's the guy who's saying 'Hands off, keep Muslims out temporarily, whilst we figure out who comes in.' An incident of this type is surely a plus for Donald Trump," Varney said.
Hours after Fox & Friends was taped, it was still a wild assumption that the crash had anything to do with Islam.
Here's a good example of how Fox News has learned to hide behind covering the "process" of this election, instead of the substance of it.
Donald "All-I-Know-Is-What-Is-On-The-Internet" Trump's tweet is, obviously, ridiculous. He casually mentions that the plane crash "looks like" terrorism, despite any evidence from anyone, and then uses that claim to back up his fundamentally brutish worldview: The world is a terrifying place, and your only hope is to elect me.
But Stuart Varney — also without any evidence at the time — validated Trump's baseless statement. By asserting that the crash proves Trump right, without offering any comment on how Trump was wildly and irresponsibly speculating about a world event he had no actual intelligence on, Varney lends his authority as a supposed newscaster to a statement that was otherwise not only not true (at the time), but also blatantly anti-factual in its lack of any evidence.
Could the crash have been terrorism? Maybe. We still don't know.
But should evidence of terrorism become clear, the point stands: Varney's use of a national platform to paraphrase Trump's blatantly self-interested counter-factual is the opposite of journalism, it's campaigning.

Photo and video: Media Matters/ Fox News.