#Endorse This: 'He's Unfit To Be Human!' Republican Ana Navarro Says Of Trump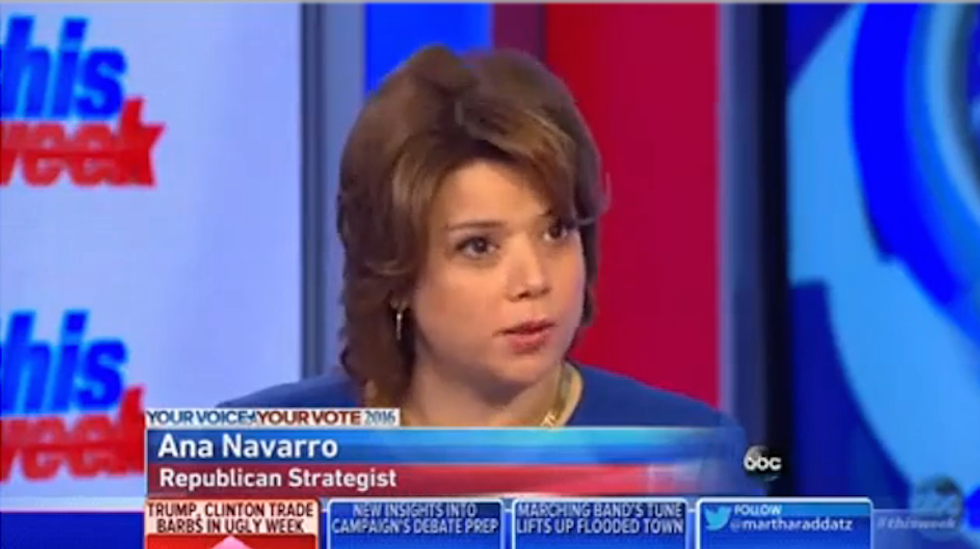 During an appearance on ABC's This Week Sunday, Republican strategist and ardent Donald Trump critic Ana Navarro reminded viewers of just how ridiculous Trump's so-called "pivots" on issues of race and immigration sound to non-white voters.
"I don't think this works, because look: You can change what a person says, you can change what a person reads off of a Teleprompter. You can't change a person's heart," Navarro said, referencing Trump's attacks on Judge Gonzalo Curiel, President Obama, and Hillary Clinton.
"The problem that Donald Trump has is that most humans have a memory."
Navarro also broke down Trump's repeated and bizarre flip-flops on immigration policy over the past week — a seeming attempt to find some non-existent sweet spot between his alt-right, nativist base and mainstream Republicans and centrists — and his shocking comment over the weekend on the shooting death of basketball star Dwyane Wade's cousin in Chicago.
Video: ABC