Endorse This: Priebus On Candidates: "No One's Forcing Them To Wear Our Jersey"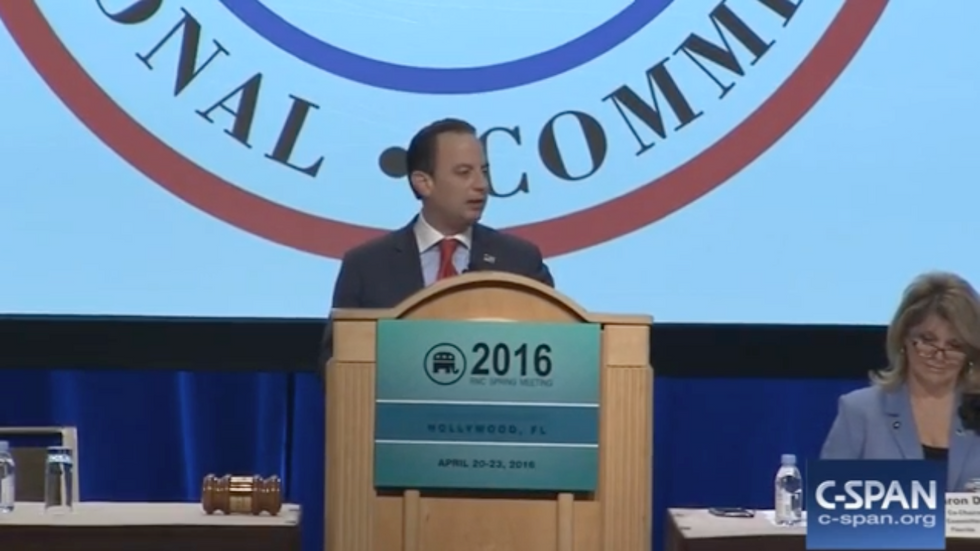 At a meeting of the Republican National Committee in Hollywood, FL today, party chairman Reince Priebus said that his entire party had a responsibility to "unite behind the nominee."
"Our candidates are running for the nomination for the Republican Party," he said to a conference room of party and campaign officials leaders. "They're trying out for our team, no one is forcing them to wear our jersey. We expect our candidates to support our party, and our eventual nominee."
Priebus was navigating a minefield: the RNC's rules committee voted Thursday against a rule change that would have made it harder to nominate candidates on the floor (a vote which enabled so-called "white knight" candidates to challenge Trump for the nomination should Cruz and Kasich fail) and the Republican National Committee has been paddling against Trump's accusations that the system is "rigged" since he lost all 14 of Wyoming's delegates to Ted Cruz.
Since then, Trump has accused Republican Party officials and the Cruz campaign of "wining and dining," orchestrating a conspiracy against his campaign.
Of the three remaining Republican presidential candidates, Trump was the only one not to attend the meeting in Hollywood.
Video/photo: CSPAN