Endorse This: Caroline Cruz Embarrasses Dad And The World Smiles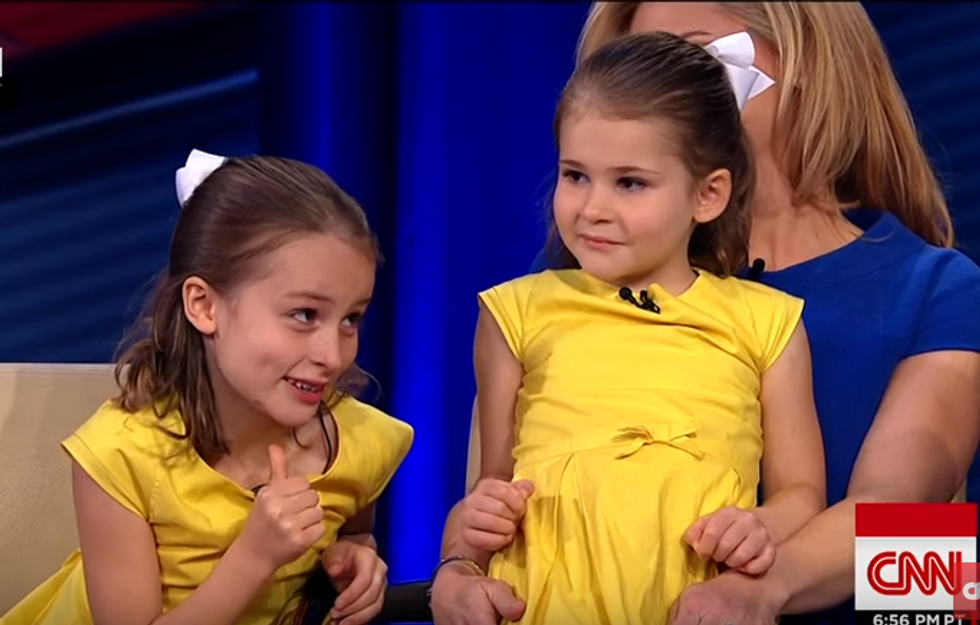 Oh Caroline Cruz. We love you. Never change.
Ted Cruz's eldest daughter Caroline Cruz — who turned eight today — has been the most charming of all the Cruzes, squirming and blurting out little nuggets of family lore.
She's embarrassed her father Ted Cruz more than once, too, and it's her irrepressibility — she's not going to behave just because her dad is running for president — that's endeared her to millions of political watchers.
In this clip from a town hall meeting on CNN, as Ted Cruz loftily tells the audience how his daughters have changed him — "There are moments of humility that being the father of daughters instills in you" — Caroline Cruz butts in with her own story, completely derailing her father's.
It's an egregious violation of his "no cameras" policy.
Could someone at the Cruz's Houston school leak the video?
Screengrab of, from left, Caroline Cruz and her sister Catherine, who is sitting on Heidi's lap. Caroline and Catherine squirm the entire time and it's adorable. CNN/YouTube