Endorse This: Ted Cruz 'Doesn't Know What The Hell He's Talking About'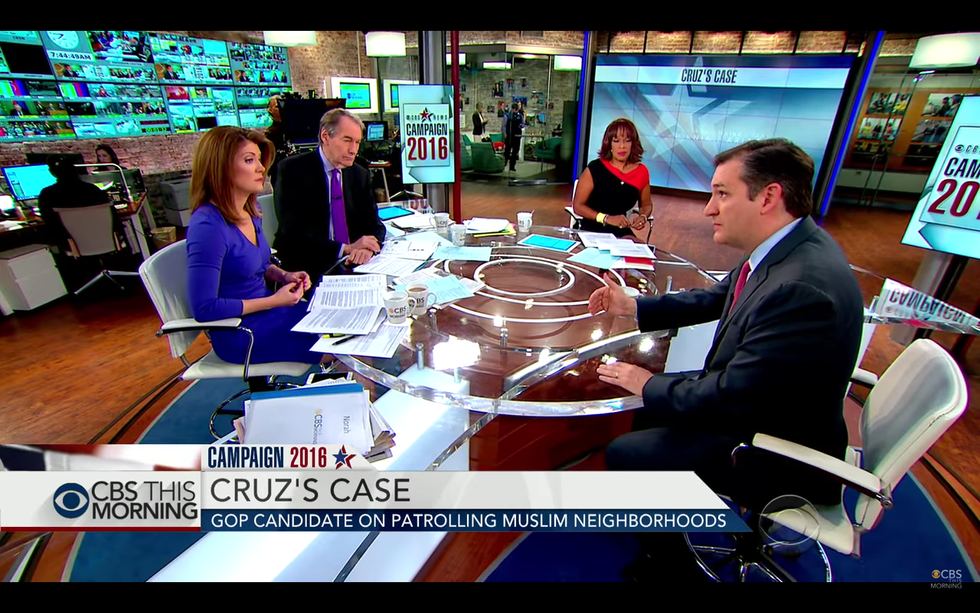 Ted Cruz got flustered today when CBS' This Morning's anchors pointed out the logical fallacies in his argument that the U.S. needs to spy on Muslim communities to weed out radical jihadists.
Co-host Norah O'Donnell was having none of Ted Cruz's political posturing.
"How many Muslims are in America?" she asked him.
Ted Cruz admitted he didn't know.
"There are three million Muslims in America. Law enforcement is overwhelmed…It's impractical what you're suggesting. Also, it doesn't suggest it would lead to anything. It's more of a political point that you're making."
She was referring to the police surveillance program that was initiated after the 9/11 but was disbanded under New York City Mayor Bill de Blasio's predecessor, Michael Bloomberg, due to its ineffectiveness.
The CBS anchor weren't the only one who found Cruz's logic ridiculous. Police Commissioner Bill Bratton blasted Cruz for his ignorance on the same program earlier:
"He doesn't know what the hell he's talking about, to be quite frank with you. I took great offense to that statement. I have almost one thousand Muslim officers in the NYPD. Ironically, when he's running around here, we probably have a few Muslim officers guarding him."
Cruz dismissed Bratton's comments, calling him and his partner John Miller, the deputy commissioner of intelligence and counterterrorism,"Democratic political henchmen" under de Blasio's command.
"It could be because he simply thinks that patrolling Muslim neighborhoods is a bad thing to do in the interest of New York?" Rose asked.
But Cruz, sticking to his political talking points, instead blamed de Blasio, Hillary Clinton and the President for sticking to "political correctness" in refusing to use the words "radical Islam" when referring to ISIS, a statement he has used repeatedly.
The hosts don't take the bait, continuing to press the oily Texas senator. Watch as the journalists do their jobs — pointing out errors, inaccuracies, and bluster in a presidential candidate.
Screenshot via YouTube/CBS This Morning