Endorse This: Watch Donald Trump Whine Like A Baby That He 'Didn't Start It'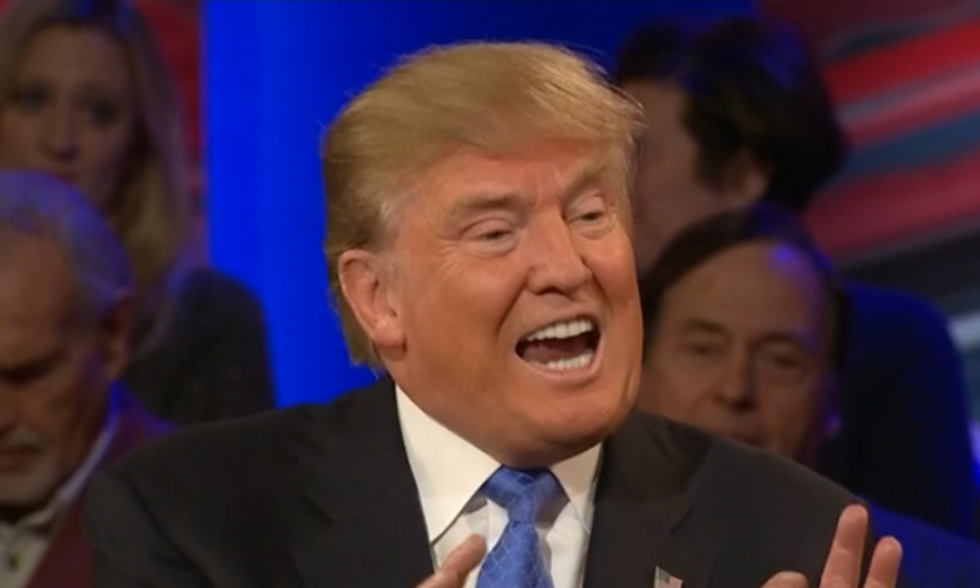 Let's play a game.
Use your imagination today, kids, to fill in what Anderson Cooper, CNN's white-haired wunderkind, asked Donald Trump at last night's town hall.
All quotes below are directly taken from Donald Trump.
Scenario: Anderson Cooper asks Donald Trump about him retweeting an "unflattering photo" of Heidi Cruz next to a glamour shot of Melania Trump.
"I thought it was a nice picture of Heidi. I thought it was fine."
"I thought it was fine. She's a pretty woman."
"Excuse me, excuse me, I didn't start it."
"I didn't start it."
"I didn't start it. No it's not."
"Excuse me, you would say that. That's the problem with our country."
"Excuse me. No, no, no. That's the problem.  Exactly that thinking is the problem this country has. I did not start this. He sent out a picture and he knew very well – "
"Anderson, it was a cover story of a picture taken by Antoine Verglas, one of the great photographers of the world, by the way,   my wife was a very, very successful model, like one of the most. It was a picture for the cover of GQ, which is a decent – which is a very good magazine. You don't think he set it up?"
"They were Romney people."
"They were Romney people. Romney is you know, very embarrassed that he did so badly four years ago. The guy choked like a dog."
"No, everybody knows he sent it out. He knew the people in the super PAC. He knew — I would be willing to bet he wrote the phrase, would you like to have this as first lady? And a lot of people said yes, actually, if you want to know the truth."
Got that? Now compare it with the video, courtesy of Media Matters.
Screenshot via CNN