#EndorseThis: After Dallas, Messages Of Unity And Peace Across The Country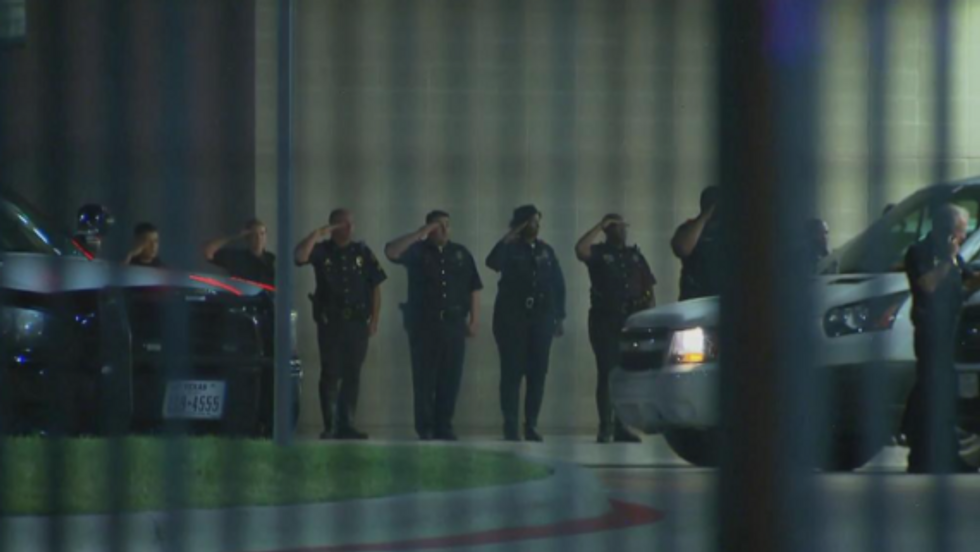 This morning, political leaders and citizens responded to last night's sniper shooting of police officers in Dallas during a demonstration prompted by the recent killings of Philando Castile and Alton Sterling by police in Minnesota and Louisiana. Five officers were killed and an additional seven were wounded, and many were quick to speak out on television and social media.
There is now an interfaith prayer vigil taking place in Dallas. You can view a live stream of the service here.
I was beaten bloody by police officers. But I never hated them. I said, 'Thank you for your service.'

— John Lewis (@repjohnlewis) July 8, 2016
I mourn for the officers shot while doing their sacred duty to protect peaceful protesters, for their families & all who serve with them. -H

— Hillary Clinton (@HillaryClinton) July 8, 2016
Last night's horrific execution-style shootings of 12 Dallas law enforcement officers…https://t.co/mwzYU98yTt

— Donald J. Trump (@realDonaldTrump) July 8, 2016
Among the most stirring responses came from the families of Castile and Sterling themselves. Quinyetta McMillon, the mother of Sterling's son, appeared almost speechless in a CBS News interview, saying that she was thinking about "the hurt of those families [of the officers], the pain that they feel, because I'm going through it. It hurts."
Mother of #AltonSterling's son on #Dallas: "Violence do not take care of violence" https://t.co/igmIWPMRNHpic.twitter.com/qANqsNuyaH

— CBS News (@CBSNews) July 8, 2016
Philando Castile's girlfriend Diamond Reynolds — who captured his death on her cell phone — wept in an interview but urged reporters not to connect Castile's death with the killings of the officers. "We have absolutely no control over anything that's happening in this world," she said. "My deepest, deepest condolences go out to those families and to those officers in Dallas, because I'm here in Minnesota and I'm mourning."
#PhilandoCastile's girlfriend breaks down when talking about #Dallas: "It hurts me…" https://t.co/AfNKjickpFhttps://t.co/xLgx9jxBjd

— ABC News (@ABC) July 8, 2016
Speaking from a NATO summit in Poland, President Obama struck a somber note as well, calling the act "despicable," paying tribute to the police officers, and stating that there was "no possible justification for these kinds of attacks." He concluded his speech by turning to the issue of gun violence and alluding to the need for stronger measures against it.
House Speaker Paul Ryan also made oblique reference to the political battles over policing and guns that are likely to occur in the days ahead, but he made a case for unity and "humanity" across political divisions: "There will be a temptation to let our anger harden our divisions. Let's not let that happen."
However, despite these messages of unity, legislative fights are soon to break out once again over guns. At another news conference today, the Congressional Black Conference called for legislative action on gun violence and police shootings.
Perhaps the most powerful remarks came from Attorney General Loretta Lynch, who articulated the national mood "of helplessness, of uncertainty, and of fear" after the grim week. But in her address, she urged Americans to "turn to each other," continue protesting for what they believed in, and abstain from violence.
U.S. Attorney General Loretta Lynch on response to Dallas shooting: "The answer must not be violence." pic.twitter.com/meqoveTCRk

— CNBC Now (@CNBCnow) July 8, 2016
Photo: Twitter/CBS Evening News