#EndorseThis: An Eighth Grade Presidential Impressionist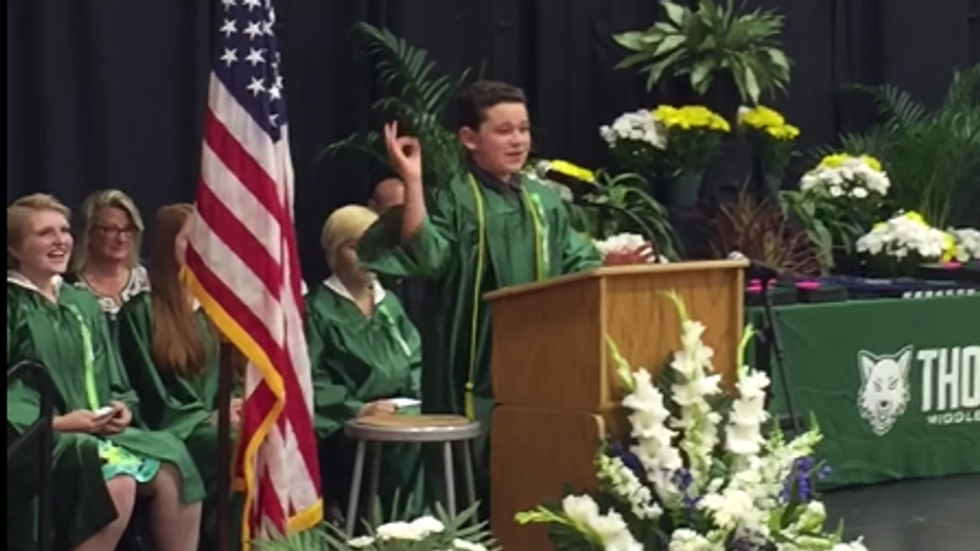 Occasionally, in the grim, months-long slog of the presidential election cycle, there is a brief beacon of light and hope for the next generation. In this case, a viral video.
Eighth grader Jack Aiello received a standing ovation for his spot-on impersonations of Donald Trump, Ted Cruz, Barack Obama, Hillary Clinton, and Bernie Sanders during his graduation speech at Thomas Middle School, near Chicago. And, in the process, he shed light on what each of the politicians would think about middle school life.
Trump is perfectly fine with Chinese language classes. Cruz is proud of embroidering his very own throw pillow. And Sanders, although he loves the cinnamon rolls in the cafeteria, wants them to be free: "What we need is a cinnamon roll revolution!"
Aiello's father told ABC that the speech combined the rising high school student's enthusiasm for impressions and politics. "He's always been good with impressions, so while watching along with his mom and I, he picked up phrases and mannerisms of the candidates."