#EndorseThis: Angus King Endorses Clinton Due To Threat Of Trumpian Nuclear Catastrophe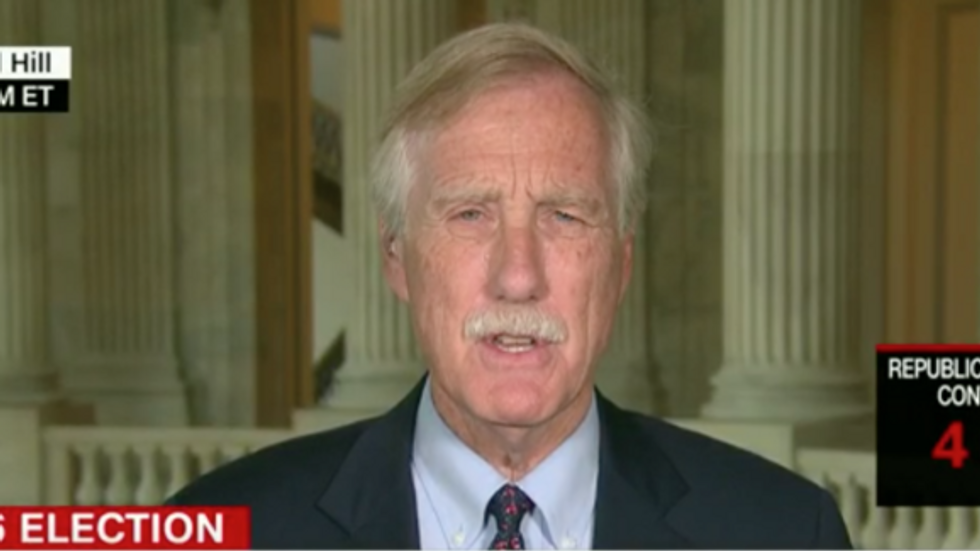 After recalling a sobering trip on the government plane intended to protect the president during a nuclear catastrophe, Senator Angus King (I-Maine) endorsed Hillary Clinton this morning, describing to CNN's Chris Cuomo his terror at imagining Donald Trump's itty bitty fingers on the nuclear trigger.
King said Donald Trump simply doesn't have the "judgment and temperament" necessary to deal with a national disaster.
As King related on CNN's "New Day" this morning, he visited a training exercise on a so-called "Doomsday plane" — part of the four-aircraft National Airborne Operations Center (NAOC) — meant to serve as a base for the president, secretary of defense, and Joint Chiefs of Staff during a catastrophe. King explained to Cuomo that as he saw the Air Force Officers on the plane respond to a simulated nuclear attack, he was struck by the fact that in such a scenario, "there's one person making a decision about the future of civilization" — the president.
"And then I thought about Donald Trump," he continued. "And it's a question of judgment and temperament, and this guy has not demonstrated to me the kind of coolness that you need in that situation."
King is one of two independent senators, and he is the last senator who caucuses with Democrats to endorse Hillary Clinton. The other independent is Bernie Sanders, who endorsed Clinton on Tuesday, albeit awkwardly. The other senator from Maine, Republican Susan Collins, remains undecided about whether to endorse Trump, although she has criticized his campaign in the past and has mentioned the possibility of supporting Hillary Clinton instead. On the other hand, Maine's governor, Paul LePage, has supported Trump for several months and appeared with him on the campaign trail.
Check out King's interview here, where he tells the NAOC story and contrasts Trump's statements with Clinton's calmer testimony in the 2015 Benghazi hearings:
.@SenAngusKing, an Independent, tells @ChrisCuomo that he is voting for Hillary Clinton. He explains why on @NewDay. https://t.co/zthiTn5nUg

— New Day (@NewDay) July 14, 2016
And if you're curious about the NAOC, check out this clip, courtesy of a National Geographic Channel show aptly titled "American Doomsday."
Photo: Twitter/New Day