#EndorseThis: Paul Begala Says The Problem Isn't The Trump Campaign, It's Trump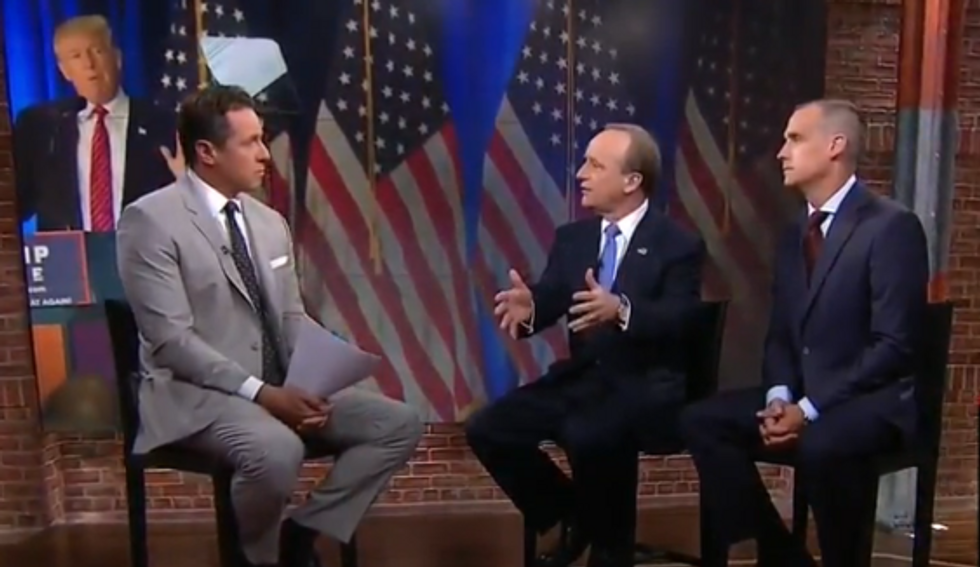 Today, The Wall Street Journalbroke the news that Donald Trump is adding two new names to lead his campaign. Stephen Bannon, the executive chairman of Breitbart News LLC, will become the campaign's CEO, and Kellyanne Conway, a GOP pollster and strategist, will assume the role of campaign manager. On CNN this morning, former campaign manager Corey Lewandowski praised the move, but his counterpart Paul Begala, a veteran Democratic strategist, said that the staff additions would not heal what's ailing the Trump campaign: the candidate himself.
The addition of Bannon and Conway will minimize the role played by Paul Manafort, who has led the campaign since Lewandowski was fired. Manafort has failed to prevent the Donald from making a series of self-inflicted wounds — from his feud with Gold Star families to his suggestion that "Second Amendment people" deal with Hillary Clinton if she wins — and he has been the subject of increased scrutiny over his ties to pro-Russian political parties in Ukraine.
Three days ago, the New York Times revealed that a secret dossier from the headquarters of ousted Ukrainian president Viktor Yanukovych included a $12.7 payment intended for Manafort, and earlier today an AP report showed that he had helped steer $2.2 million from Yanukovych's party to two Washington lobbying firms in a manner that masked the money's origin.
Lewandowski took a dig at Manafort during the CNN discussion, saying that Conlee's presence "is something I think has been lacking which is that senior leadership on the plane for the last two months."
But hiring the Breitbart chair is unusual. Bannon has helped the conservative outlet become one of the most effective conservative publications — and one of the most vocal Trump backers — in online media, but he has no experience in campaigns. And Bannon is controversial even among other conservatives, including The Weekly Standard editor William Kristol, who said, "I hate the fact that it's called Breitbart News. If they changed the name and called it Right Wing Intolerant Mean-Spirited News, that would be fine."
But Begala, who was a strategist and advisor for Bill Clinton and is now advising the pro-Clinton super PAC Priorities USA, said that he doubted the staffing change would make much of an impact on the race. "The problem is Donald Trump," he told anchor Chris Cuomo. "It was never Corey, it's not Mr. Manafort, and it's not these new people. It's the candidate, stupid."

Photo: Mediaite/CNN