#EndorseThis: Bill O'Reilly Dismisses Concerns About Voter Suppression: 'Every African American I Know Has An ID'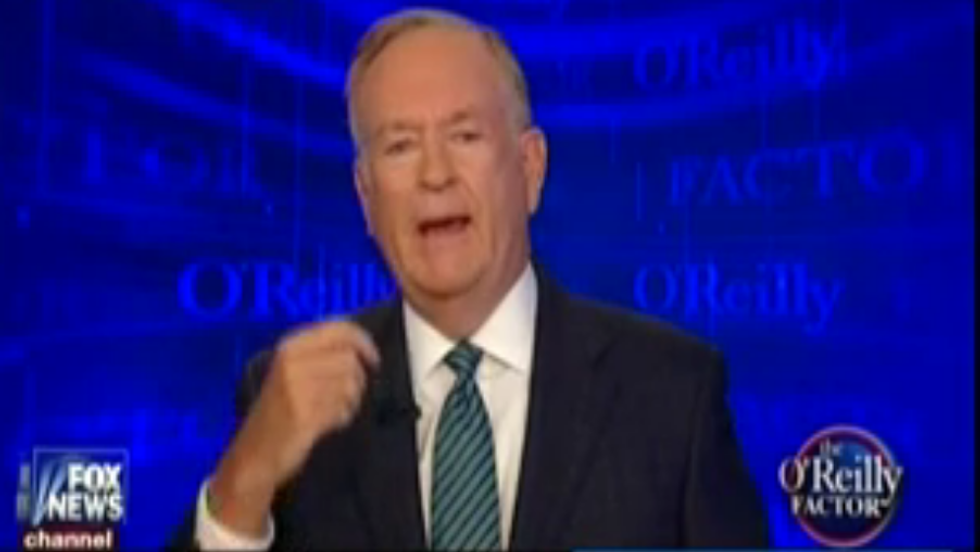 On Wednesday, Bill O'Reilly spoke about the Supreme Court's refusal to hear a case on Ohio's "Golden Week," which was previously struck down by a lower court. Golden Week would have allowed Ohioans to register to vote and cast their ballots beginning on October 5, rather than October 12.
Though O'Reilly celebrated the court's decision against to prevent extra voting days, it wouldn't be The O'Reilly Factor without some additional misinformation thrown in.
Let's break down O'Reilly's claims:
"There's all kinds of stuff about people wanting to vote at the last minute, they want to vote after the election, they want to vote at 3am."
Perhaps O'Reilly is referring to pro-Bernie Sanders Democratic primary voters here, it's unclear. In many states during the primaries, Sanders supporters who felt they were being disenfranchised advocated for the use of affidavit ballots in cases of disputed party affiliation and the like.
As far as 3am voting? That doesn't exist. In fact, so far this year, the problem has been the opposite: In Arizona, primary voters waited 5 hours to vote in some locations because the (Republican) state legislature reduced the number of open polling places from 200 in 2012 to just 60 in 2016. Many waiting in line were forced to go to multiple polling places, or not vote at all.
After the Supreme Court gutted Section 5 of the Voting Rights Act in 2013, such changes could be made without federal pre-assurances that it would not lead to voter suppression. Without such oversight, it's clear that Arizona did suppress the primary vote.
"You can't just have the week-of sign-up."
First, Ohio's "Golden Week" took place from October 5-12, hardly "the week of" the election. But many states do allow voters to register and vote the same week as the election. Here are the states which allow same day registration and voting, according to the Brennan Center: California, Colorado, Connecticut, Hawaii, Idaho, Illinois,Iowa, Maine, Maryland, Minnesota, Montana, New Hampshire, Vermont, Wisconsin, and Wyoming — plus the District of Columbia.
"You can't check these people that fast, so somebody could come in with fraudulent documentation the day of, the week of, and the state can't check it."
See above. This isn't true. Plenty of states allow voters to register immediately prior to voting, and there isn't any evidence that these states have higher instances of voter fraud than others. Overall, voter fraud is an almost impossibly minuscule problem in American politics. Writing in The Washington Post in 2014, Loyola Law School professor Justin Levitt claimed to have found just 31 allegations — not prosecutions — of the type of fraud that can be prevented with voter ID laws, over roughly a billion votes cast. He also found over the same period that 3,000 people had been turned away from the polls due to a lack of ID. And no doubt countless others stayed home due to a lack of ID.
"Every African American I know has an ID."
Thankfully, knowing Bill O'Reilly is not a requirement to vote. In fact, according to the ACLU, "more than 21 million Americans do not have government-issued photo identification; a disproportionate number of these Americans are low-income, racial and ethnic minorities, and elderly."
"All the states that say, 'You have to show an ID,' and then its, 'Oh no! You can't do that! Then African Americans won't vote!'"
In fact, O'Reilly's impression of a stereotypically pro-voting rights liberal is telling the truth. In North Carolina, the Republican state legislature decided to place all sorts of limits on voting specifically because they had confirmed (with tax-payer funded research) that it would suppress African American (and thus, Democratic) turn-out. In fact, when the Fourth Circuit Court of Appeals finally got around to striking down North Carolina's racist voting laws earlier this year, they mentioned this Daily Show segment, which clearly implies a racial and partisan motivations, recorded when the law was first passed.
"The states that want that will send you an ID. They'll come to your house with the ID."
Nope. In fact, one of the reasons voter ID laws are discriminatory in the first place is that, sometimes, obtaining a valid ID takes lots of time and access to a vehicle. When the Department of Justice struck down a voter ID law in Texas in 2012 (before the Voting Rights Act was gutted by the Court), according to Color Lines' Brentin Mock:
Texas has no driver's license offices in almost a third of the state's counties. Meanwhile, close to 15 percent of Hispanic Texans living in counties without driver's license offices don't have ID. A little less than a quarter of driver's license offices have extended hours, which would make it tough for many working voters to find a place and time to acquire the IDs. Despite this, the Texas legislature struck an amendment that would have reimbursed low-income voters for travel expenses when going to apply for a voter ID, and killed another that would have required offices to remain open until 7:00 p.m. or later on just one weekday, and four or more hours at least two weekends.
Voter ID laws are not common sense regulations whose benefits outweigh their costs. For the miniscule handful of voting violations that may prevent, they make it harder — much harder, in the many states where access to IDs has been limited by state legislatures — to vote for hundreds of thousands of people, most of whom, coincidentally, are Democrats.