#EndorseThis: Campaign Surrogates Explode Over Guests At Speeches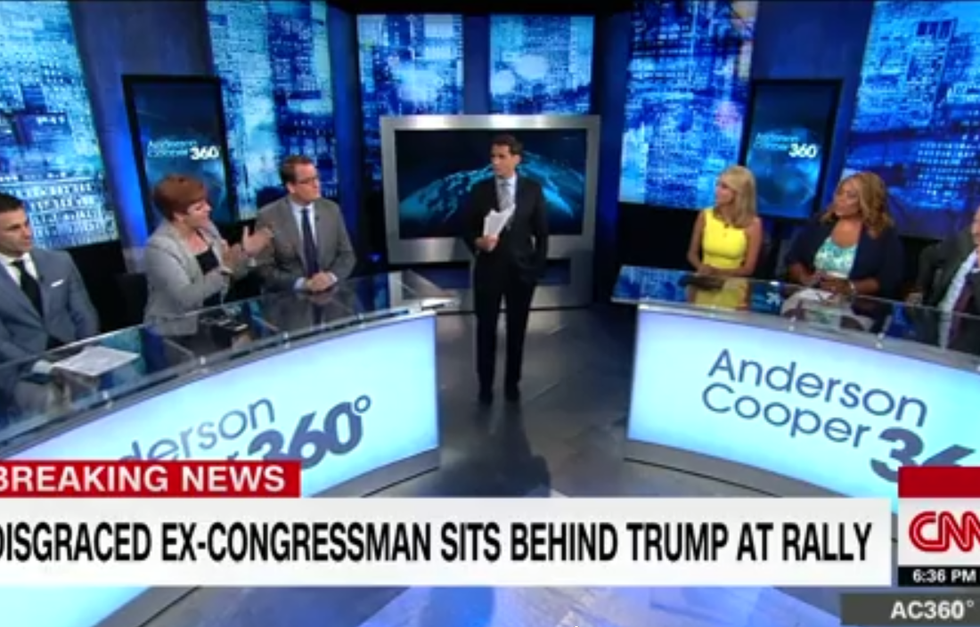 This has not been a good week for the staffers charged with filling the arenas of the Trump and Clinton campaigns. On Monday, the father of the Pulse nightclub shooter, Seddique Mateen, appeared behind Hillary Clinton at her rally in Kissimmee, Florida. Two days later, Donald Trump held his own rally in Florida and chastised Clinton for allowing Mateen into her rally, saying, "When you get those seats, you sort of know the campaign. You sort of know the campaign." (Clinton's rally was open to the public.) But immediately behind Trump sat former congressman Mark Foley, who resigned in 2006 following allegations that he had sent sexually explicit emails and instant messages to teenage congressional pages.
A bad week all around.
But that did not stop CNN panelists on Anderson Cooper 360 from exploding over the rally guests. Last night, Trump supporter Kayleigh McEnany smiled as she attacked the Clinton camp's faux pas and used it to imply that the Democratic candidate was too soft on terrorism. In response, Christine Quinn — who has emerged as CNN's most impassioned Clinton surrogate (check out her spats with Corey Lewandowski) — called McEnany's suggestions "beyond offensive."
The argument escalated. Quinn attacked Trump for appearing with Sen. Marco Rubio at an event for an anti-gay group in Florida. McEnany tripped Quinn up into appearing to say that Hillary Clinton supporters were mentally ill. Quinn told McEnany to "stop smirking." And so forth.
In an interview on local news after the Clinton rally, Mateen defended his appearance, saying that he supported Clinton, that he loved the United States, and that he wished that his son, Pulse shooter Omar Mateen, had "joined the Army and fought ISIS."
The Clinton campaign, for its part, released a statement explaining "[t]his individual wasn't invited as a guest and the campaign was unaware of his attendance until after the event."

Photo: CNN