#EndorseThis: Chris Murphy Filibusters For Change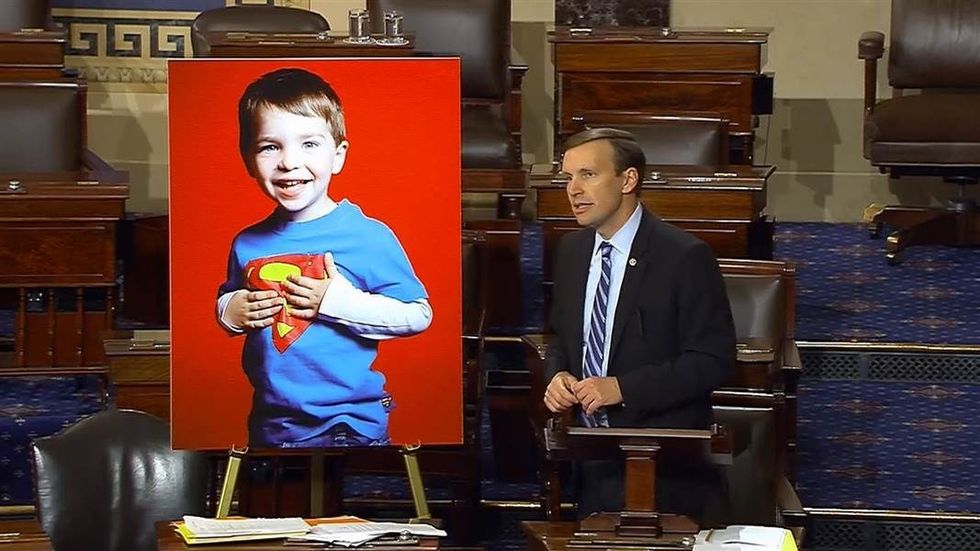 Senator Chris Murphy (D-Conn) concluded his nearly 15-hour filibuster to call for votes on two gun control measures early this morning by telling the story of six-year-old Dylan Hockley, an ebullient student at Sandy Hook Elementary with an infectious laugh. Diagnosed with autism, Hockley died on December 14, 2012 in the arms of his special education teacher and personal aide, Anne Marie Murphy.
Standing next to a poster of Hockley, Murphy appeared to get choked up as he recalled Hockley's life, his bonds with his brother, classmates, and Murphy, and his intelligence and enthusiasm for learning. He closed with a call to his colleagues to act on gun control:
"It doesn't take courage to stand on the floor of the United States Senate for two hours or six hours or 14 hours. It doesn't take courage to stand up to the gun lobby when 90 percent of your constituents want change to happen. It takes courage to look into the eye of a shooter and instead of running, wrapping your arms around a six-year-old boy and accepting death as a trade for just a tiny, little, itty piece of increased peace of mind for a little boy under your charge."
Sen. Murphy, who was the representative for Connecticut's 5th district (which included Newtown) before his senatorial term began in January 2013, ended his filibuster after learning that Republican leaders had agreed to hold votes on two measures that would ban gun sales to individuals on terror watch lists and broaden background checks, respectively. However, as Donovan Slack of USA Todaynotes, it is still unclear whether either law will actually pass, since the measures were defeated in the Senate after the San Bernardino shooting in December, and House Republicans would likely put up a fight against any progress in the Senate.
But Murphy's remarks serve as a reminder that in the four years after the Newtown shooting, Congress has been inactive regarding gun control measures. And it also served again to show the devastating human costs of gun violence.
As Murphy's filibuster ended, Dylan's mother Nicole Hockley — a founder of the gun control group Sandy Hook Promise, tweeted, "We love you @ChrisMurphyCT from @sandyhook. You are a true champion!"
Photo: Chris Murphy filibusters. NBCNews.com