#EndorseThis: Clinton Takes On Trump's Business Record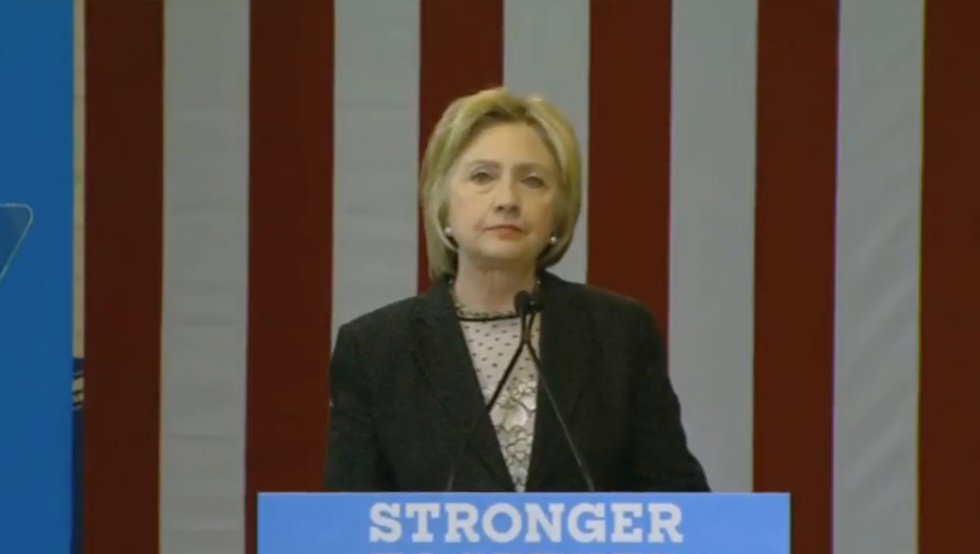 Campaign speechwriters and researchers rarely get shout-outs in major addresses. But today, in a surgical take-down of Donald Trump's business record, Hillary Clinton seemed obliged to thank her staff.
"You know, when I was working on this speech, I had the same experience I had when I was working on the speech I gave about foreign policy and national security," she said, before talking about Trump's tax plan. "I'd have my researchers and my speechwriters send me information, and then I'd say, 'Really? He really said that?' And they'd send me all the background and the video clip… So here it goes."
Clinton went on to dissect Trump's tax plan, and the egregious burden it would put on the American economy. It didn't seem like a very difficult speech to assemble or deliver, frankly: The analyses of Trump's tax plan have been around for months, and they have been unanimous: What Donald Trump is proposing is not only unreasonable, it's not even grounded in economic realities. It would be a disaster.
Clinton also drilled Trump on his failure to release his tax returns, saying it could mean any number of things: That Trump hadn't paid any taxes, that he didn't give to charity, or that his net worth wasn't nearly as large as he says it is.
If you want a recap on what economists and investigative reporters (including David Cay Johnston, on this site) have been saying about Trump for months, the entire speech is a fairly efficient summary of the juiciest opposition research.
Video: FOX 10 Phoenix