#EndorseThis: Colbert Trolls Trump's Saudi Weekend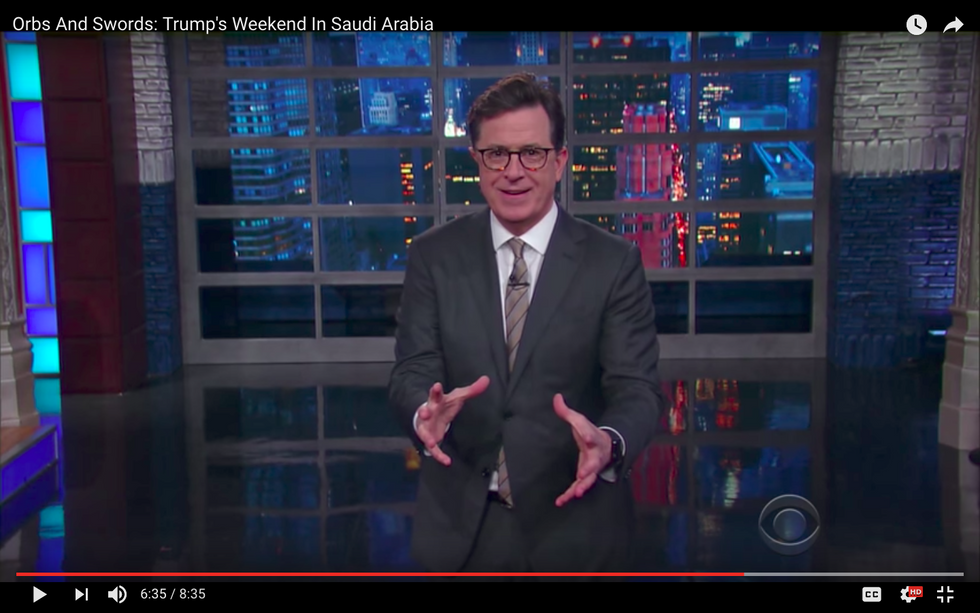 Unlike mainstream media pundits, Stephen Colbert isn't buying the notion that Donald Trump suddenly becomes presidential by reading a mediocre speech off a teleprompter. But that doesn't mean he isn't pleased by Trump's journey overseas.
"I've got a little extra pep in my step," admits the Late Show host, "because Donald Trump has left the country." He stops to muse: "Maybe this is a good time to reinstate that travel ban. He is coming from a dangerous place. Extreme vetting! That's all I'm asking for."
Nor does Stephen hold back on Trump's stopover in Riyadh, where King Salman hung a gold medal around his neck. Noting that "Trump gave Obama a ton of grief for bowing to the Saudi king, no way was he going to bow." But the tape tells a different story: "Wait, there he is, going from the knees, and a bow — and a curtsey! He did a little curtsey at the end there, very nice." (In fact, he did.)
Then there was Trump's Saudi Shuffle in that charming sword dance. And Trump's speech, which to Stephen's ear sounded like a real estate timeshare pitch. And Commerce Secretary Wilbur Ross' idiotic observation that there were no anti-Trump protesters in Riyadh, not even "one guy with a placard." Could that have anything to do with the Saudi habit of decapitating dissenters?
Just click.