#EndorseThis: Colbert Unravels The Mysteries Of Trump's Mind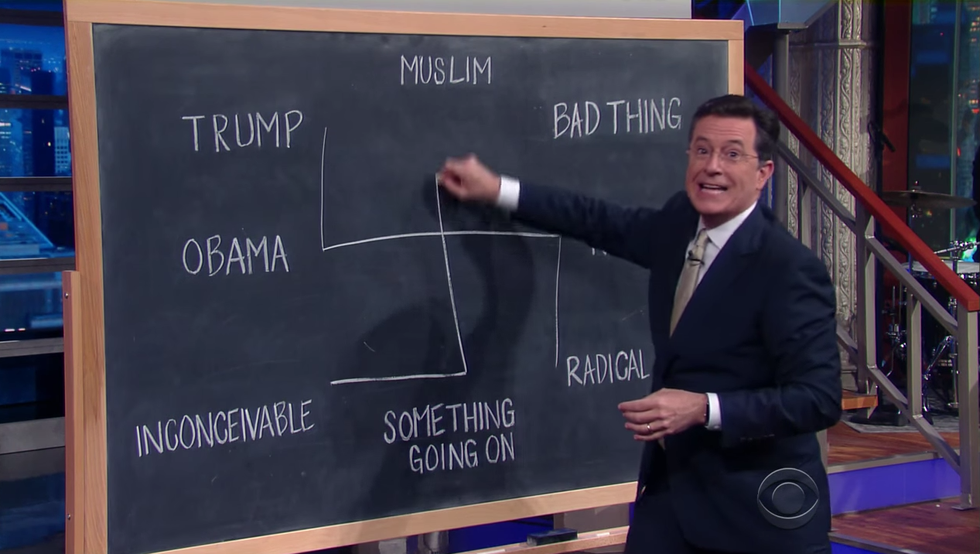 Last night, Stephen Colbert drew the lines connecting Donald Trump's insane remarks about President Obama and the Orlando terrorist attack. And underneath all the noise, Colbert uncovered a swastika.
The Late Show host slammed the real estate "tycoon" last night after Trump told Brian Kilmeade of Fox & Friends, "We're led by a man who is very—look, we're led by a man that either is not tough, not smart, or he's got something else in mind. And the something else in mind, you know, people can't believe it."
Presumably, Trump was implying that President Obama is somehow connected to the Sunday mass shooting in Orlando that resulted in 49 dead and 53 wounded. At least, that was the conclusion that a Washington Postarticle drew before his campaign revoked the paper's press credentials in an almost unprecedented move. (The article's headline has since been revised, but it still conveys essentially the same point.)
On Tuesday, said Colbert, "Trump clarified his statement by making a vaguer one." He then played a clip from the Howie Carr Show where Trump insinuated that President Obama's motives were questionable and then concluded, "We'll let people figure it out."
Answering the challenge, the late-night host brought out a chalkboard labeled the "Figure-It-Out-Atron" and proceeded to draw lines connecting Trump's words together.
 "First of all, before I figure this out, I've got to think like Trump, so first, I'm not going to take my meds," he announced, before beginning to draw lines between Trump's words.
The Figure-It-Out-Atron comes out around the five-minute mark: