#EndorseThis: Corey Lewandowski Tries To Blame All Immigrants For New York Bomber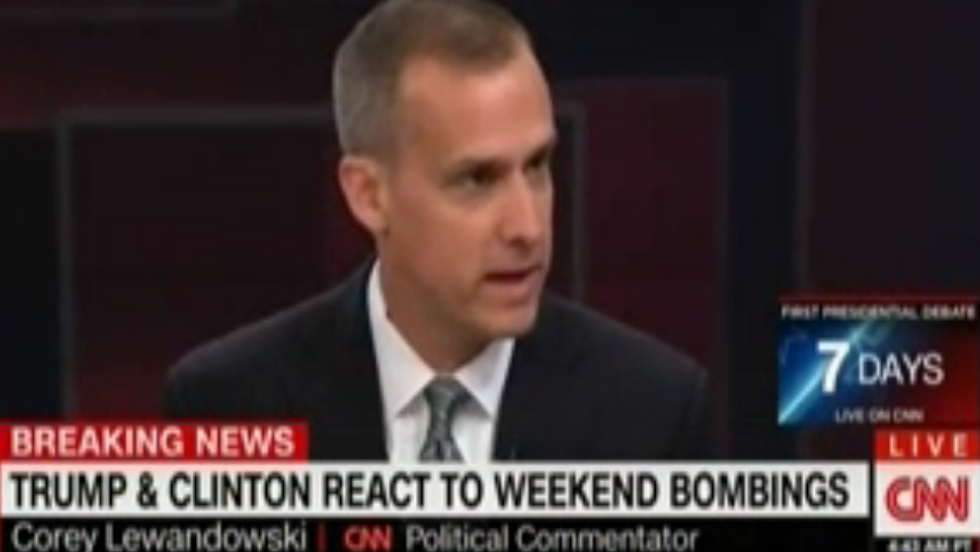 Responding to news of the identity of the man behind the bombing of the Chelsea neighborhood in New York City, former Trump campaign manager Corey Lewandowski tried to use the event to justify tightening controls on immigrants coming in to the United States, even though the suspected bomber was a legal U.S. citizen.
"It rehighlights the problems we have with our immigration system. What we know is that 40 percent of the people who are in the country illegally have overstayed their visas," Lewandowski said.
When CNN New Day hosts Alisyn Camerota and Chris Cuomo told Lewandowski that the suspect, Ahmad Khan Rahami, is a naturalized citizen of the United States, a legal immigrant from Afghanistan, the commentator brought up the two gunmen in the San Bernardino attacks, who had overstayed visas.
"What Donald Trump is saying, and what he has said from the beginning, is we want to make sure that our immigration policy is such that we don't have potential terrorists coming here,?" Lewandowski continued, undeterred.
It's not the first time the Trump campaign has used attacks like this to target all immigrants.
After the Orlando gay nightclub shooting, Trump said that "the only reason the killer was in America in the first place was because we allowed his parents to come here."
In a speech advocating for "extreme vetting" of immigrants and refugees trying to come to America in August, Trump said "the common thread linking the major Islamic terrorist attacks that have recently occurred on our soil … is that they have involved immigrants or the children of immigrants."