#EndorseThis: Daily Show Profiles Weird Press Secretary Sean Spicer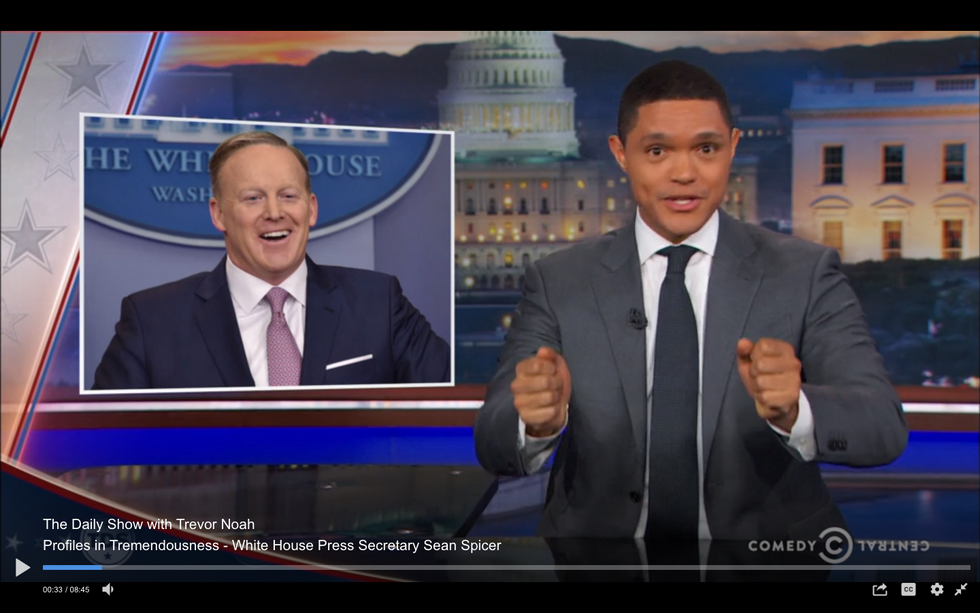 Like the rest of America, we're just beginning to get accustomed to the cast of characters in the Trump White House — Stephen Bannon, Kellyanne Conway, Reince Priebus — and the face that may soon become most familiar is Sean Spicer, the press secretary who began his new post with a series of ridiculously blatant lies and obnoxious threats.
Unless you've followed Republican politics in the capital quite closely, Spicer may be unfamiliar to you. So the Daily Show offers a stinging "Profile in Tremendousness" dedicated to the GOP flack, which traces back to his college days when he was mocked as "Sean Sphincter." That's mean. It turns out that like his new boss, Spicer is a creature of bizarre obsessions and habits, which have driven him to post Twitter rants. For some reason he hates those tiny ice cream balls called Dippin' Dots, and he chews (and swallows!) dozens of pieces of cinnamon gum every day.
But Spicer has now signed on, as Trevor Noah explains, to show up every day with a can of air freshener, trying to mask the overpowering stench of Trump's bullshit. How this will go is captured in a priceless clip from his first formal press conference, when NPR reporter Mara Liasson asks him to explain why Trump says the unemployment rate is 42 percent. (It's actually 4.7 percent.)
Mindless and gruesome, but still funny.