#EndorseThis: Elizabeth Warren Calls Trump "A Small, Insecure Money-Grubber"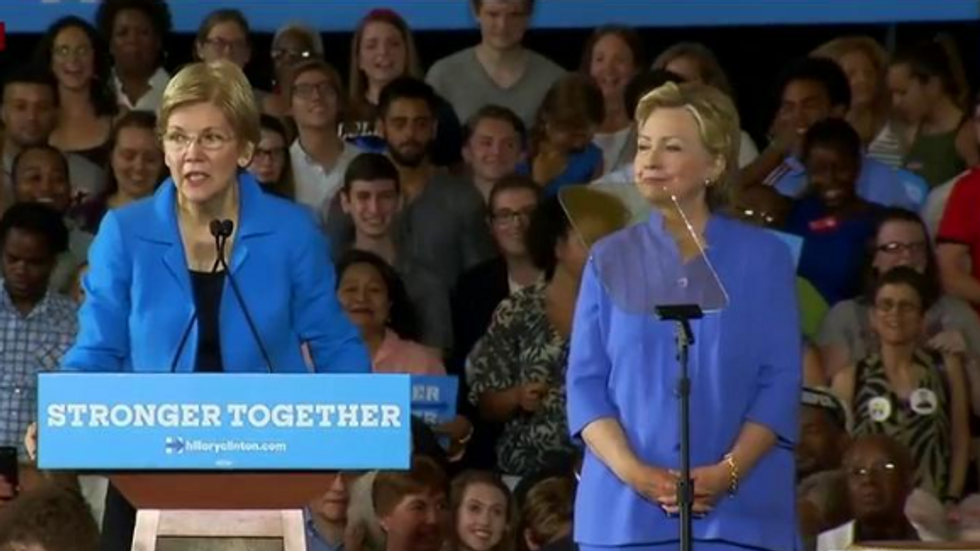 This morning, Sen. Elizabeth Warren appeared on the campaign trail with Hillary Clinton for the first time, saying she had "a good heart" and repeating the campaign's slogan that Clinton "fights for us." While introducing Clinton to a cheering crowd in Cincinnati, the progressive Massachusetts senator repeatedly drew contrasts between the former secretary of state and Donald Trump.
"Donald Trump says he'll make America great again… It's stamped right on the front of his goofy hat," Warren said, drawing laughs from the crowd and referring to the Republican candidate's recent replacement of the term "Pocahontas" with "goofy" in his Twitter battles with her. "You want to see goofy? Look at him in that hat. But when Donald Trump says 'great,' I ask: 'Great for who?'"
Warren dove into an eight-minute tirade against Trump, characterizing him as a selfish, conniving hustler and ally of the Wall Street uber-wealthy. "What kind of a man roots for people to lose their jobs, to lose their homes, to lose their life savings?" Warren asked. "I'll tell you what kind of a man: a small, insecure money-grubber who fights for no one but himself."
The Clinton campaign has been looking intently at Warren as a potential vice presidential pick, after the senator endorsed her on June 9, the same day as President Obama and Vice President Biden. The following day, Clinton and Warren had a private meeting in Washington, D.C., and later that month Warren appeared at Clinton's campaign headquarters in Brooklyn. Today, ABC News's Cecilia Vega reported that Warren was being formally vetted for the vice presidential position. If she were picked, it would mark one more attempt to attract former Bernie Sanders supporters to Clinton's campaign.
"Donald Trump believes poor, sad little Wall Street bankers need to be free to defraud anyone they want," Warren said, echoing another progressive rallying cry. "Hillary Clinton believes that we need strong rules to prevent another financial crisis."
Image source: Twitter/CBS News