#EndorseThis: Ex-CIA Director Calls Trump An "Unwitting Agent" Of Russia, Pence Shrugs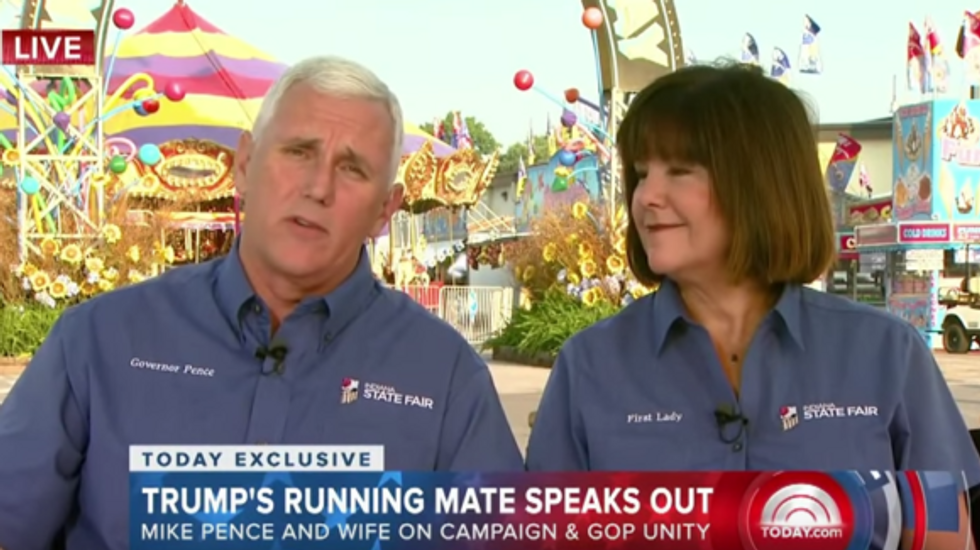 Listening to Donald Trump talk about Vladimir Putin can bring to mind that kid in your sixth-grade class who wanted to be a tough guy and therefore hung around the eighth-grade bully, trying desperately to ingratiate himself, while the older boy took his lunch box. The Republican candidate has repeatedly praised the Russian leader in the past, calling him "a leader, unlike what we have in this country," standing by his praise even when MSNBC host Joe Scarborough replied that Putin kills dissident journalists, and predicting that the two would "get along very well."
Now, the former director of the CIA says that the real estate mogul could well be "an unwitting agent of the Russian Federation."
In a New York Times op-ed published today, Michael Morell, who was deputy director of the intelligence agency from 2010 to 2013 and served as acting director twice during that period, endorsed Hillary Clinton, citing Trump's relentless self-promotion, seeming disregard for facts, and apparent hypersensitivity. The core of his condemnation–and the key detail picked up by several news agencies–is that the Republican nominee has repeatedly praised Putin, seemingly without concern for Russia's history of human rights violations, invasion of Ukraine, and clear support for Syrian strongman Bashar al-Assad.
All Putin had to do, Morell wrote, was compliment Trump. Doing so flattered the tycoon enough to bring him in the Kremlin's camp. And it doesn't hurt that Trump's campaign manager, Paul Manafort, has worked as an advisor on the campaigns of pro-Russian Ukrainian politicians, including ousted president Viktor Yanukovych.
Trump's VP pick Mike Pence took to the morning talk shows to respond. Sitting affably in front of the Indiana State Fair and wearing a collared shirt somewhat redundantly labeled "Governor Pence," he shooed away Morell's condemnation on NBC's Today, saying that Trump would be a strong leader and that "standing up to Russian aggression is going to be really different under a Trump-Pence administration."
"I supposes this is the same CIA that told the president that ISIS was the JV team," he added before pivoting to talking about crowds on the campaign trail.
That's not exactly the kind of statement that is going to silence critics of Trump's stance towards Russia. But if Morell is right, it's the kind of statement that Vladimir Putin wanted to hear.
Photo and video via YouTube/TODAY