#EndorseThis: Flint Pastor Stops Trump When He Goes Off Script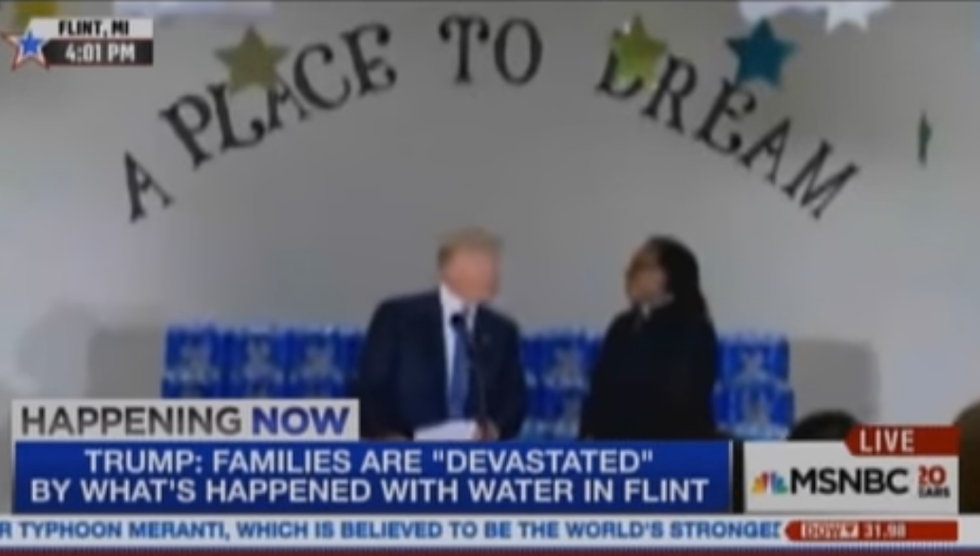 Want to be featured in our daily #EndorseThis column? Here's an idea: Invite Donald Trump to your hometown to deliver an explicitly apolitical address to your parishioners, then discipline him when he (predictably) strays from the script.
That's what Rev. Faith Green Timmons of Flint, MI did Wednesday, and boy was it about time.
One video clip of Trump's speech at Bethel United Methodist Church begins during Trump's criticism of the North American Free Trade Agreement, and then of Hillary Clinton. In no time, Timmons enters stage left, interrupting Trump's speech to remind him to stay away from politics.
"Mr. Trump, I invited you here to thank us for what we've done in Flint, not give a political speech," she said to Trump, who, interrupted in the middle of another pre-written speech, wrapped up quickly after that.
"Oh, oh, OK, OK, OK. That's good," Trump said. "Then I'm going to go back onto Flint, OK."
"I thought he wanted to see that we gave out food and water, and when his statement went beyond what he originally said, I asked him to stick to what he was originally going to say," Timmons told the Detroit Free Press afterwards. "He's welcome to come and see what we're doing in Flint. We're doing well. We're helping those in need. And I wanted him to see the best of Flint."
Timmons also admonished congregants who heckled Trump.
Donald Trump is not the kind of presidential candidate to let a pastor go unanswered. So this morning, he launched into a Trumpian damage control routine, saying Timmons had planned the interruption and that she was "a nervous mess."
"Something was up because I noticed she was so nervous when she introduced me," he told Fox & Friends on Thursday morning. "Everyone plays their games, it doesn't bother me."
In a now-deleted Facebook post before the event, Timmons had written, "HE WILL NOT USE US, WE will EDUCATE HIM!!!" After the event, she followed up: "Had he stuck to what his camp claimed he came to do we would not have had a problem! – Good night."
Why the heckling from attendees of Trump's speech? According to NPR's Scott Detrow, they were asking Trump about a lawsuit filed by the Nixon Justice Department (and later settled in secret) alleging that Trump discriminated against black applicants to his apartment buildings in the '70s.
Photo: MSNBC/ Talking Points Memo