#EndorseThis: Fox Host Presses Katrina Pierson On Trump's Tax Returns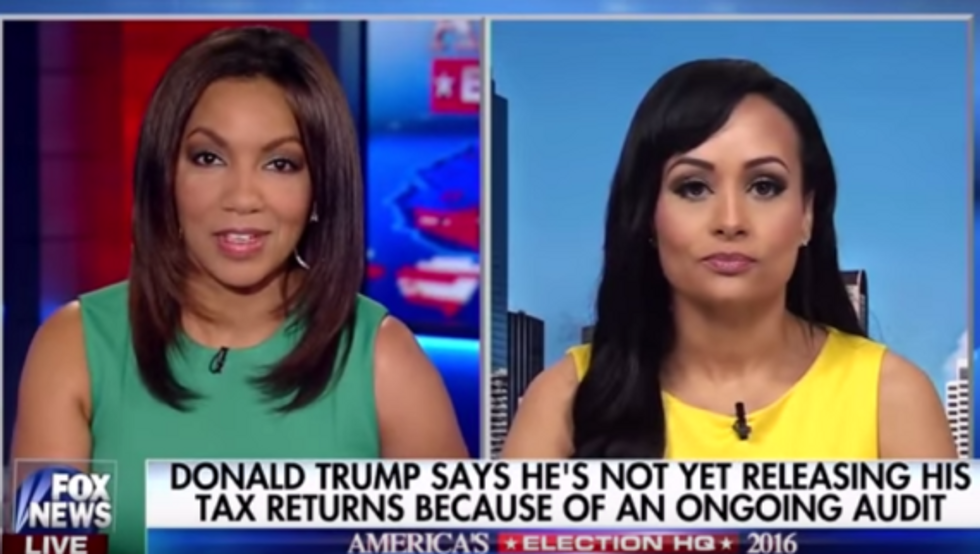 Trump spokeswoman Katrina Pierson made headlines this weekend for a real whopper, claiming that Barack Obama had invaded Iraq, not George W. Bush. But the chronological flubs that spawned the creation of the #KatrinaPiersonHistory hashtag began weeks ago, when she suggested that Hillary Clinton and Barack Obama were responsible for the death of Army Capt. Humayun Khan in 2004.
.@WolfBlitzer fact checks Trump spokeswoman after she says Obama and Clinton are to blame for Capt. Khan's death https://t.co/nZAfYTh2J9

— The Situation Room (@CNNSitRoom) August 3, 2016
Yesterday, Pierson appeared to be on friendlier ground, giving an interview to Fox News. But then, host Arthel Neville pressed her on whether Trump should release his tax returns. Pierson responded that the practice of presidential candidates releasing their tax returns was a "novelty."
Neville replied, "It's been going on since the 1970s. It's a tradition, not a novelty. The voters want to know."
Pierson responded, "It's a novelty tradition."
The Trump campaign has repeatedly refused to release the candidate's tax returns, citing an ongoing IRS audit. However, although the law prohibits the agency itself from releasing tax returns, Trump is not legally barred in any way from doing so. As Jeffrey Toobin writes in The New Yorker,
"The main risk of disclosure is political rather than legal. Trump's returns may show that he pays a very low effective tax rate. They may also show that he gives very little to charity, or show foreign financial entanglements."
Last week, Hillary Clinton and Tim Kaine released their own tax returns, revealing that in 2015 the Clintons made a combined $10.6 million and had an effective tax rate of more than 30 percent. During the same year Kaine and his wife made $313,441 and had an effective tax rate of 20 percent.
Photo: YouTube/Raw Story