#EndorseThis: Gary Johnson Doesn't Know WHAT Aleppo Is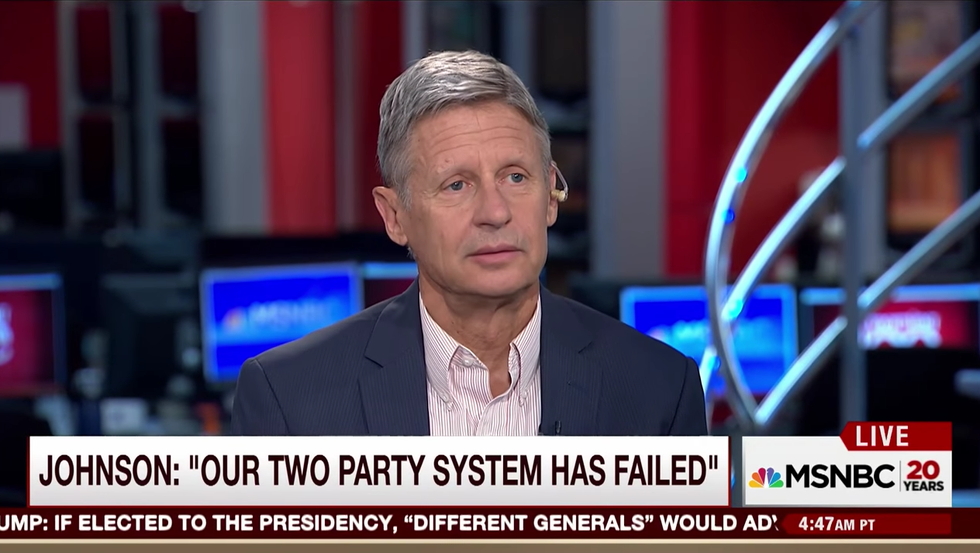 Today's #EndorseThis column might be a bit thinner than usual, as I could only watch the subject of this article one time before physically turning away from the television, muting the sound, and burying my head in my heads.
That's because Gary Johnson, the Libertarian Party's pitch at mainstream legitimacy in an election year with historically unpopular major party candidates, asked what Aleppo was.
That's right: What. Not where it is, not what's happened to it. Johnson's brain fart on Morning Joe implied that not only does the Libertarian nominee not know that Aleppo was at one point Syria's largest city before a half decade of civil war made it a theater for some of the most gruesome battle of the 21st century — including, recently, an alleged chlorine gas attack on civilians by president Bashar al-Assad's forces — but also that he doesn't even know it's a city in the first place.
It's even more shocking because the disaster in Syria ought to be the primary talking point of the former New Mexico governor's campaign against foreign intervention, a central tenet of Libertarianism: The United States has funded rebel groups on all sides of the conflict, including ISIS' new top field commander Gulmurod Khalimov, whom we trained when he was police commissioner of Tajikistan, and the toxic stew of ideological proxy warring in Syria should be a softball topic for any Libertarian, let alone the leader of the entire party.
I hope the gaffe doesn't distract from the facts on the ground: The world has failed Syrian civilians, refugees and not, leaving hundreds of thousands dead and still more imprisoned, tortured, or displaced. If anything, Johnson's blank stare stands in for millions of Americans who could care less about what's happening in Syria. But the rest of us aren't running to command thousands of troops and billions of dollars directly related to that conflict.