#EndorseThis: Hasan Minhaj, Roasting Trump, Is Tops On YouTube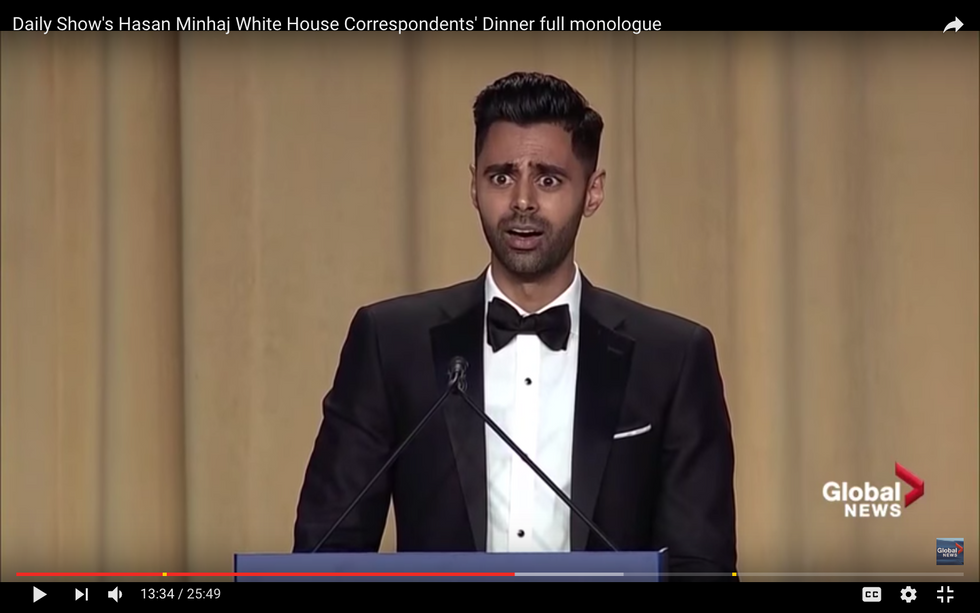 Trending #1 at the moment on YouTube is this full-length video of Hasan Minhaj's monologue at the White House Correspondents' Association dinner on Saturday night . No doubt that will reassure the Daily Show correspondent, who stood before the assembled Washington press corps and vowed to hire Kellyanne Conway to say he killed even if he bombed.
Minhaj, a Muslim immigrant from India, is a talented comic and did his best to entertain a sometimes humorless crowd, which groaned at jokes that you may well consider hilarious. "No one wanted to do this," he kidded, " so of course it lands in the hands of an immigrant. Don Rickles died so you wouldn't ask him to do this gig."
In keeping with the event's traditions, he roasted the nation's top media organizations — and of course he roasted the absent president and that man's minions at high temperature, inflicting the harshest burn on a certain strategist ("I do not see Steve Bannon here…not see Bannon…not-see Bannon…Nazi Bannon"). And while a lot of Minhaj's jokes work — and he's a charming guy — it's a long speech. If you don't have much time, you may want to view the Washington Post highlights reel.
The complete version offers many rewards, however, including the Spicer jokes, the Ivanka jokes, the Sessions jokes, the Putin jokes, and the many Trump jokes.