#EndorseThis: How The Swamp Became A Trump Cesspool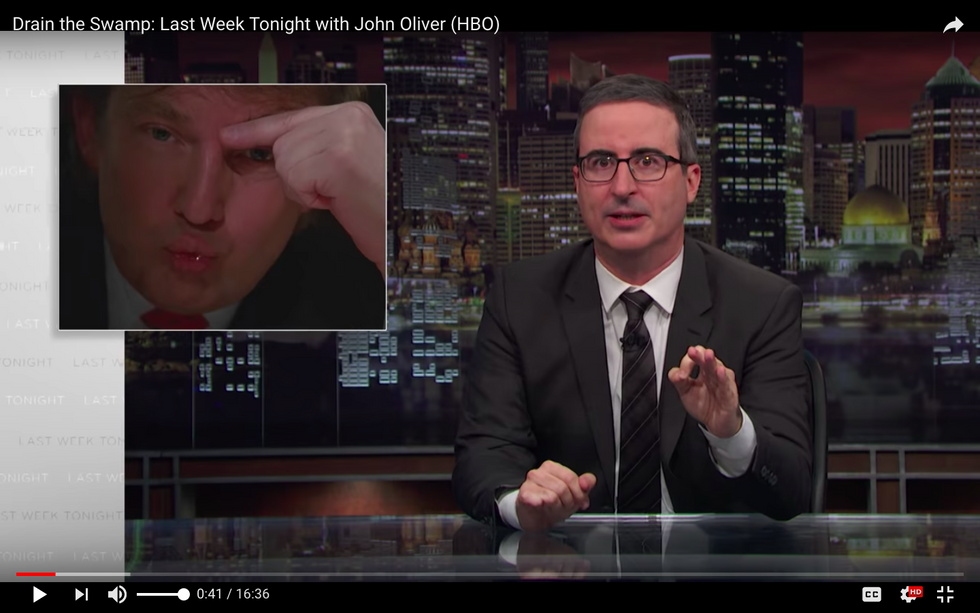 To mark the anniversary of Trump's "drain the swamp" slogan, John Oliver drills down into the muck of Washington today. As he notes, Trump named a "laughable" number of former business executives to oversee policies that directly benefit themselves and their former employers.
Indeed by now, everyone has figured out that Trump and his appointees have degraded the swamp into a cesspool of corruption.
But just how deep and how filthy is exposed with remarkable originality by the investigative staff at Last Week Tonight — who discovered, for instance, a truly startling piece of video starring Scott Angelle, an Interior Department official whose job is to oversee offshore oil rig safety. Watch a real swamp critter in action as he solicits "business opportunity" calls on his personal cellphone from oil company executives. (Surprise! He has urged Trump to roll back regulations that protect oil rig workers.)
Then there's the classic video of Trump, admitting he never took drain-the-swamp seriously in the first place. It's amusing to observe the awkward laughter of the #MAGA crowd, listening as he tells them to their faces how full of it he really is.
Just click and learn.