#EndorseThis: James Carville On The Clinton Foundation's New Restrictions: 'Somebody's Going To Hell For This'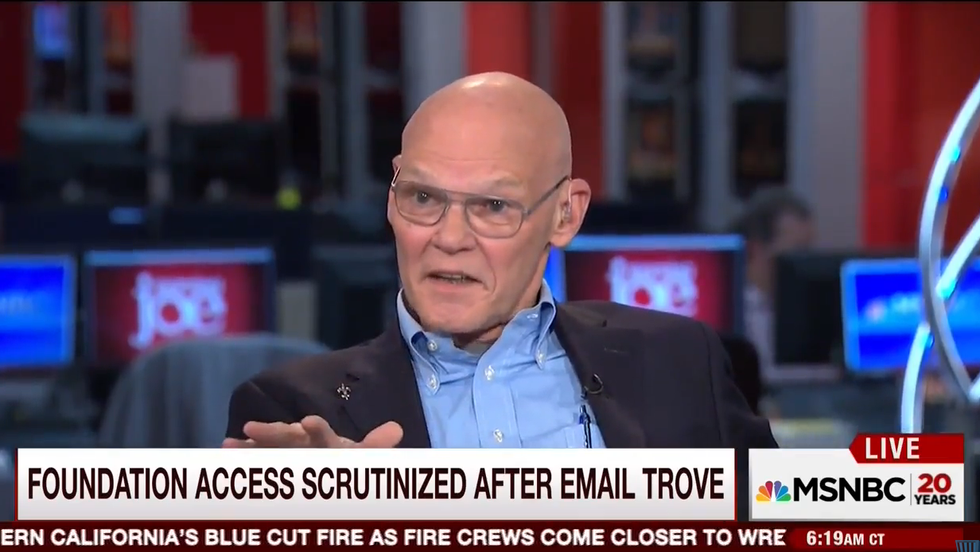 Bill Clinton released a memo on behalf of the Clinton Foundation last Thursday announcing that it would no longer accept foreign or corporate donations should Hillary Clinton be elected president.
The announcement came on the heels of an editorial in the Boston Globe advocating the change in policy, as well as weeks of attacks from Donald Trump, who claimed that recently-released emails from Hillary Clinton's private server during her time as secretary of state proved a "pay to play" relationship.
The Clinton camp and their allies deny any political favors were given in exchange for donations, but even they have been hesitant to discuss the foundation's work itself: the Clinton Foundation was essentially absent from on-stage speeches at the Democratic National Convention, and reactions to the proposed ban on foreign donations ranged from begrudging acceptance to exasperation that the change hadn't come sooner, even among liberals.
Which makes James Carville's appearance on Morning Joe Tuesday all the more interesting. The former Clinton advisor said that, purely politically, the move to ban donations make sense, but that on a moral level, it's a different story.
"As a political adviser, of course. As a human being, I'm not sure," Carville said. "As a human being I think the foundation does an enormous amount of good, but from strictly political standpoint, like my sixth grade teacher says, somebody is going to hell over this. Understand here, this is saving people's lives."
Photo: MSNBC