#EndorseThis: John Oliver Takes Aim At The NRA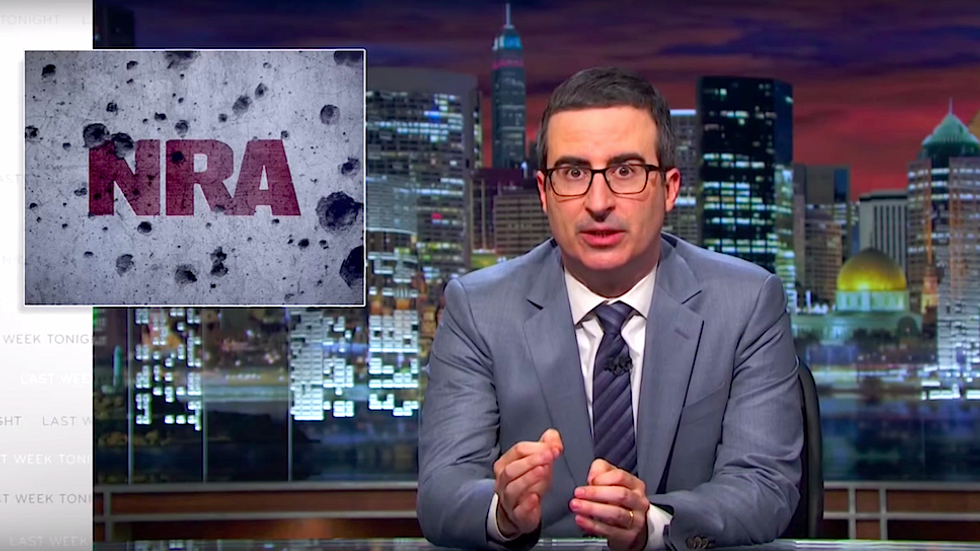 One week after the tragic shooting at an Orlando gay bar, John Oliver directed his ire at the National Rifle Association and its allied legislators, who have argued that stricter gun measures will not decrease shooting deaths. Then Oliver turned to the NRA's efforts to distort information on guns and gun violence.
"Yes, it's the old 'I'm not doing anything until you can prove it' argument: the same argument favored by climate change deniers and fathers of the baby on Maury. Happy Father's Day!" began the Last Week Tonight host, before diving into the NRA's successful lobbying efforts to block federal funding for research on gun violence.
The capstone of this effort was the Dickey Amendment to the 1996 Omnibus Consolidated Appropriations Bill, which stated that "none of the funds made available for injury prevention and control at the Centers for Disease Control and Prevention may be used to advocate or promote gun control." Since then, CDC funding of gun-related research has decreased 96 percent.
Oliver added that the NRA has also been able to prevent the Bureau of Alcohol, Tobacco, and Firearms from having an electronic database of firearms searchable by name. Images of some of the current records recovered from Hurricane Katrina, for instance, look less like a national database and more like "the manifesto from a Spanish galleon that sank in 1610."
Last week, Rep. Tony Cardenas (D-Calif.) introduced an amendment to a bill in the House Energy and Commerce Committee in an attempt to give the CDC more funds to conduct gun research. It failed.