#EndorseThis: Kimmel Explains Why Trump Won't Show His Taxes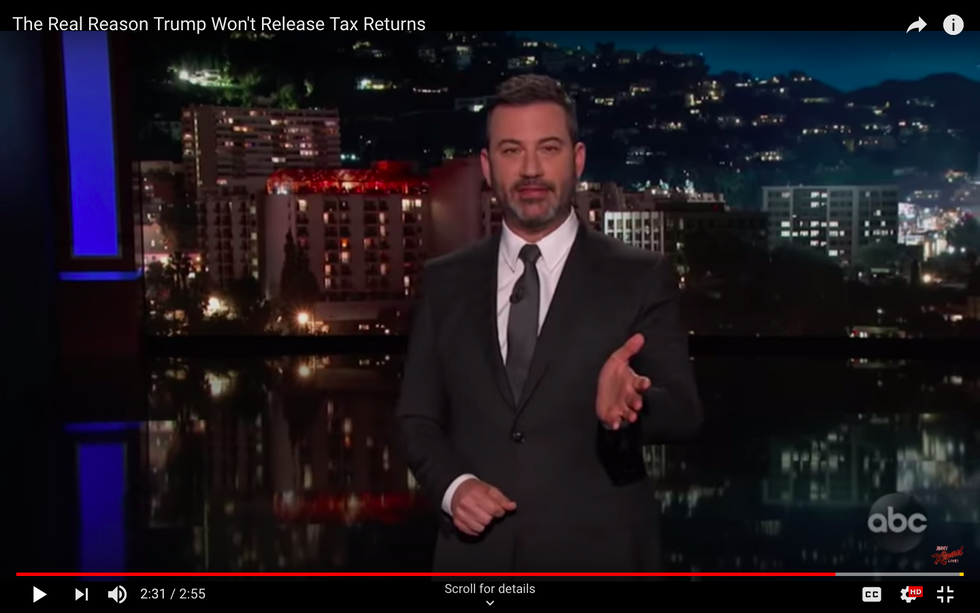 Donald Trump's ongoing determination to conceal his tax returns — unlike any other president since Nixon — is annoying Jimmy Kimmel, who snarks: "He's holding onto those tax returns tighter than an extra-crispy drumstick from KFC." But the late-night comic has his own theory to explain why Trump doesn't want us to see his tax returns. It's an ego thing.
That oversize Trumpian ego heaved into view when he visited Mount Vernon, the home George Washington, with Melania, Emmanuel Macron, and the French president's wife last year. We're only learning details about the embarrassing incident now, but it seems that Trump insulted the Washingtons' distinguished American home. He said the rooms were too small.
Quickly bored by the tour, he demanded to know whether Washington was "really rich" — and confided what the first president would have done "if he was really smart." You'll never guess.
As Kimmel observes: "If he were your uncle, it would be funny, right?"
Right! So click and chuckle as if someone else is president.