#EndorseThis: Kimmel Exposes Melania's Escape Plan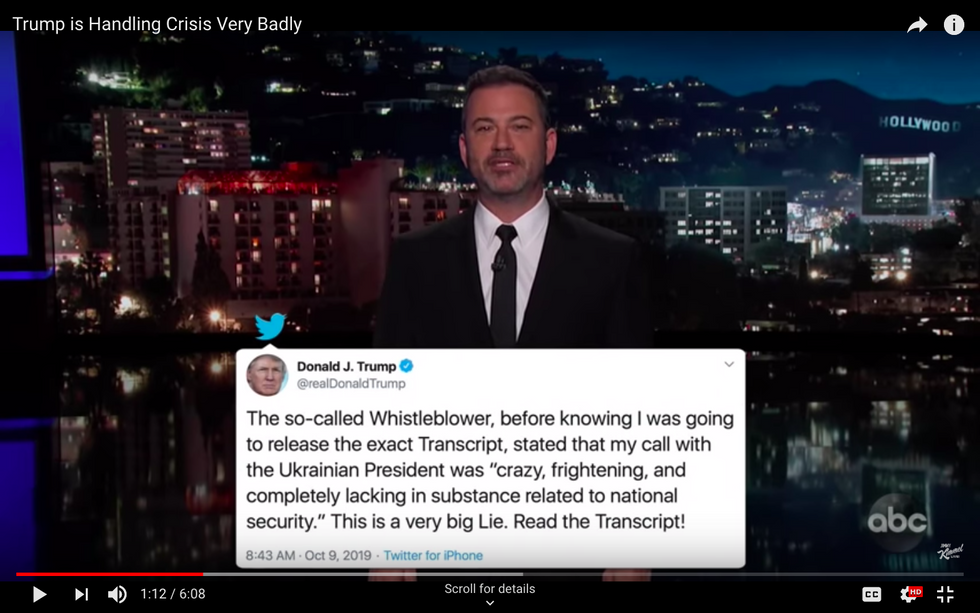 The "Tangerine Twitter Machine" is working furiously — not at his Oval Office job, but tweeting obsessively as the dark tide of impeachment engulfs his presidency.
"He's doing very badly. He got up on the wrong side of the tanning bed this morning," quips Jimmy Kimmel, flicking through the latest stack of weird messages from Trump.
As the president shamefully abandons the Kurds to a potential massacre by Turkish forces in Syria, Kimmel notes that the "adults in the room" have departed — leaving him to advisers Jared Kushner and Ivanka Trump. Indeed, the White House, home of the most powerful leader in the world, "is like a family-run pizzeria now." The alternative, as Jimmy reveals in exclusive footage, is to rely on the MAGA 8-ball for easy answers to tough questions.
Meanwhile, Melania just broke ground on a new White House tennis pavilion. Or is she digging an escape tunnel?
Click and chortle.