#EndorseThis: Mick Mulvaney Blows Up Trump's 'Tax Audit' Excuse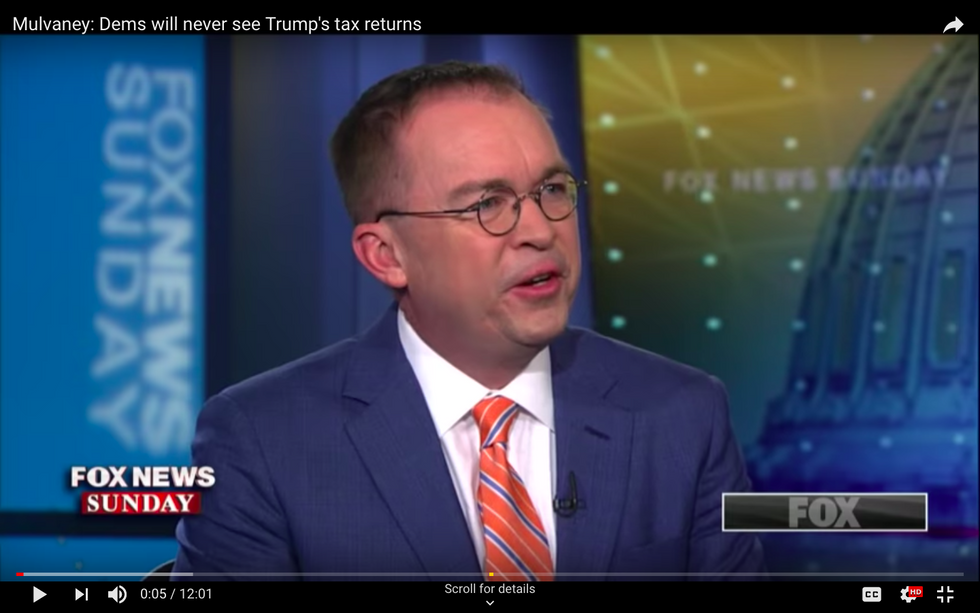 Ever since Trump abandoned his 2016 promise to disclose his income taxes, he has offered this excuse: "I'm under audit." It was always a transparently false pretext, but then over the weekend Mick Mulvaney, acting White House chief of staff, confessed the truth — on Fox News.
Fast forward through his "no collusion, no obstruction" chanting and all the usual nonsense about immigration to 5:52, where Mulvaney first says that the president "could always have given his tax returns and he didn't." At 6:25, after host Bill Hemmer gently punctures the "audit" excuse, Mulvaney admits: "You could always allow people to see [Trump's tax returns]."
So much for that alibi.
Mulvaney vows that Democrats — and presumably the rest of the American public — will "never" see Trump's taxes. But New York legislators are considering a bill that would allow disclosure of the president's state tax returns. And it is not at all clear how courts will rule on the Congressional request for his federal returns, which is clearly lawful.
Click and watch Mick's gaffe. (The boss must be mad.)