#EndorseThis: Oprah Delivers A Brilliant, Inspirational Scolding In Georgia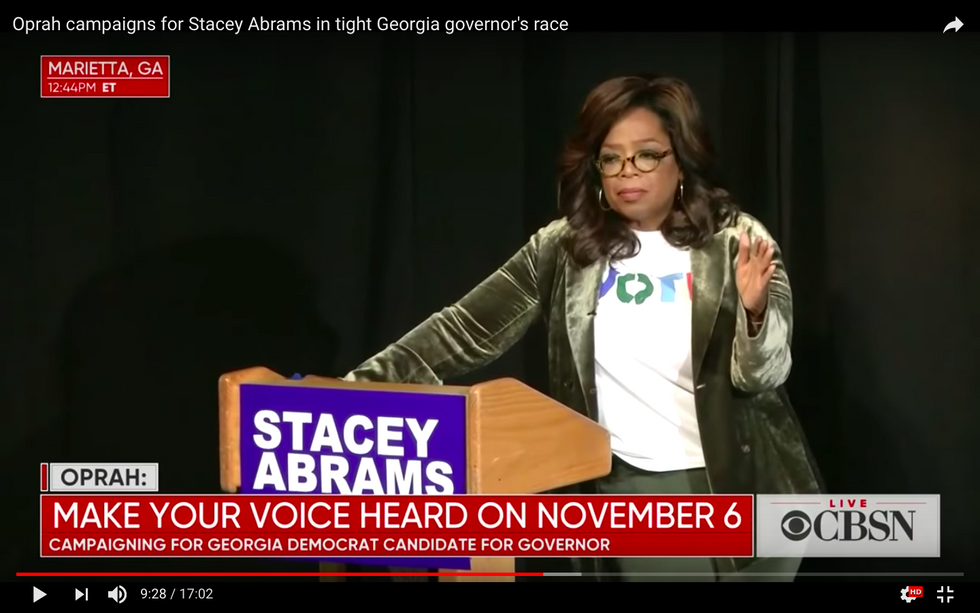 You may have heard that Oprah Winfrey just visited Georgia to campaign for Stacey Abrams. But what you need to hear is her speech introducing the Democratic gubernatorial candidate — and explaining why she had to show up.
She denied emphatically that her purpose was "to test any waters" for a potential 2020 presidential candidacy. "I don't want to go in those waters," she insisted.
No, she felt obliged to remind everybody of the power and responsibility of the right to vote. And she delivered that message in an exceptionally moving way.
Oprah told the story of Rev. Otis Moss, Sr., an African-American clergyman, who was deprived of his vote by Georgia's white authorities in an especially cruel manner. Every time she votes, said Oprah, it is to honor him, and her grandmother, and so many other Americans who never exercised their democratic franchise.
"I'm here today because of the men and because of the women who were lynched, who were humiliated, who were repressed, who were oppressed," she said. "Their blood has seeped into my DNA. I refuse to let their sacrifices be in vain. I refuse."
And she had a few words for anyone, especially younger people, who fail to join her at the polls.
"For anybody here who has an ancestor who didn't have the right to vote, and you are choosing not to vote, wherever you are in this state or this country, you are dishonoring your family. You are disrespecting and disregarding their legacy and their dreams when you don't vote."
Click and see why this formidable woman scares Donald Trump into acting polite whenever he dares to mention her name.