#EndorseThis: Samantha Bee Smacks Down Peter Schweizer, Hard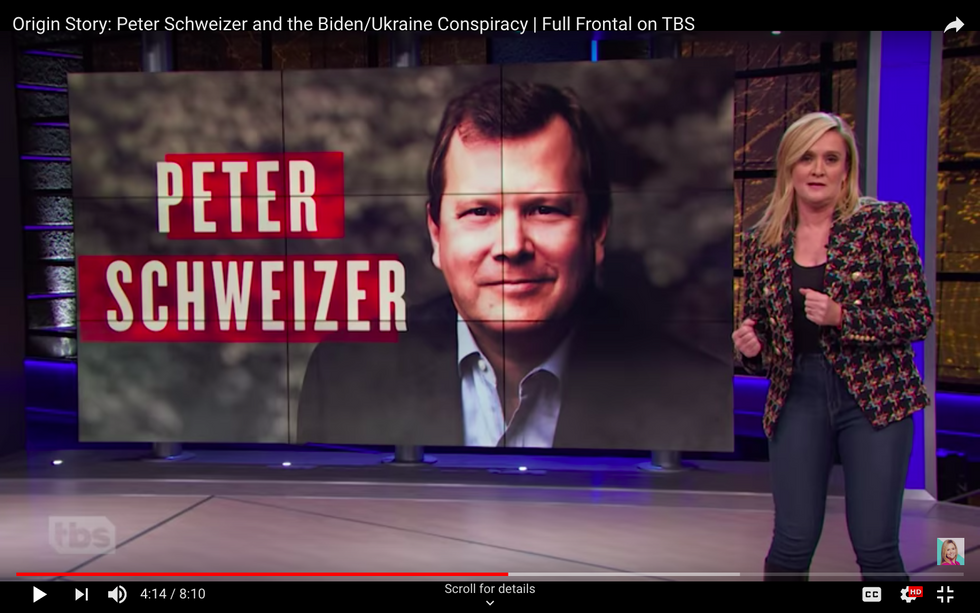 Count on Samantha Bee to summarize the supposed scandal surrounding Joe Biden and his son Hunter's business in Ukraine: "It's bullshit!" But beyond that pithy epithet, Bee wants you to understand from where the bullshit emanates — because this isn't the first time and it won't be the last.
The original source of the Biden smear is a right-wing writer named Peter Schweizer, familiar from Clinton Cash, his 2016 project with Steve Bannon that succeeded in defaming the Clinton Foundation, the former president and the first female Democratic presidential nominee.
As Bee puts it, Schweizer "is very good at injecting his nasty little gas bubbles into America's political bloodstream."
She reviews Schweizer's gamy history, his ties with Bannon and his ludicrous book "exposing" Disney, replete with paranoid tales of gay Disneyworld employees disguised as Donald Duck. And she lucidly explains how Schweizer and Bannon exploit mainstream outlets such as the New York Times and CNN to promote fake "investigations" of liberal politicians. Those investigations always feature gaping holes of fact and logic.
"We don't have direct evidence" of Clinton's supposed wrongdoing, Schweizer admits in a 2016 ABC clip. "Then why in the holy fuck are we talking about it?" demands Samantha Bee.
Why indeed? Only Sam could make this journalistic malpractice funny — and she does.
Click and wince.