#EndorseThis: A Scary Time (For Trump)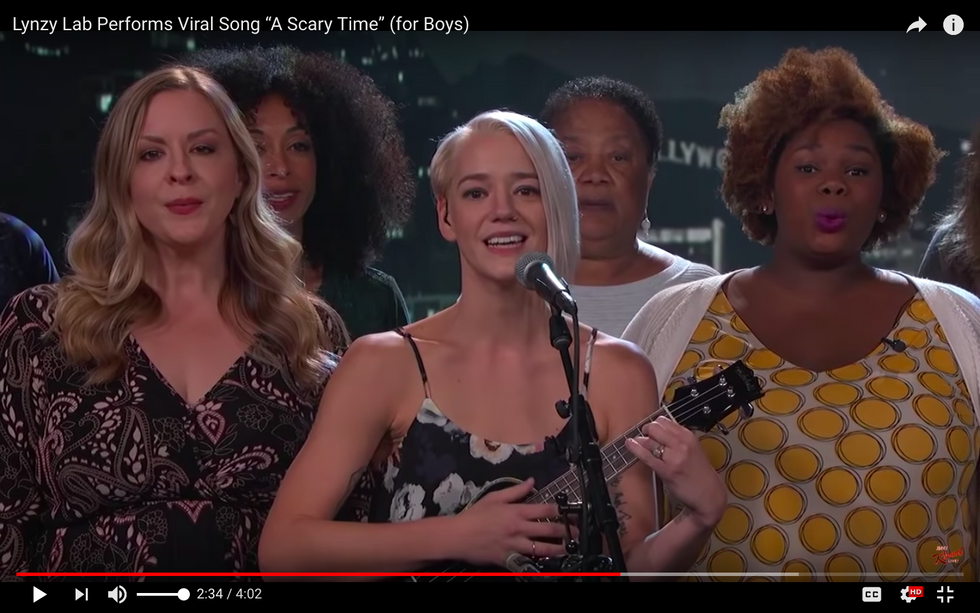 Jimmy Kimmel celebrated the International Day of the Girl with a very special guest. He welcomed Lynzy Lab, a college dance lecturer from Texas, whose satirical ditty "A Scary Time" just went super-viral on Twitter.
With biting lyrics set to a happy tune, smiling Lynzy strums her ukulele as she roasts Trump and all the other loud-mouthed misogynists who whine because women are finally defending themselves against male predation.
She sings:
I can't walk to my car late at night while on the phone.

I can't open up my windows when I'm home alone,

I can't go to a bar without a chaperone. And I can't wear a miniskirt if it's the only one I own…

Yeah, it sure is a scary time for guys. Can't speak to any women or look them in the eyes.

It's so confusing, is it rape or is it just being nice?

So inconvenient that you even have to think twice.
Accompanied by a growing chorus of women, she ends by reminding us what is to be done.
Razor sharp and yet totally charming. Just click.