#EndorseThis: Seth Meyers Goes 'Snitty' On Barr And Trump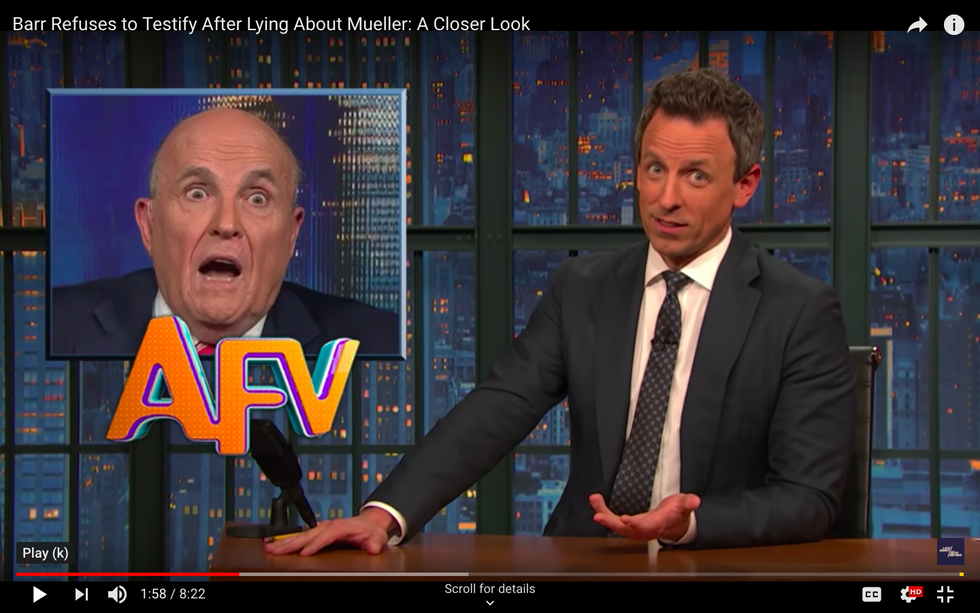 When Democrats took control of the House, Donald Trump warned that he would answer any attempt by them to investigate his administration's corruption with "a war-like posture." As Seth Meyers observes, he is more often seen in a duck-like posture, but never mind — the political warfare between Congress and the White House is on.
The flashpoint was Attorney General Bill Barr's refusal to testify before the House Judiciary Committee on Thursday, where he would have faced questioning by staff attorneys as well as committee members.
According to Seth, Barr probably didn't want to repeat the stuttering gaffe he uttered when a skilled interrogator — Sen. Kamala Harris, to be exact — pulled a can of whup-ass on him at the Senate hearing. That's a moment worth watching, simply because everyone should know what a weasel our chief law enforcement officer is.
Seth knows why Robert Mueller sent such an indignant letter to Barr last month (which Barr somehow neglected to mention in prior testimony): "He spent two years working on a 400-page report about a criminal conspiracy to interfere in a presidential election, and then you wrote a four-page summary lying about it. I'd be 'snitty' too."
Yeah, anyone would.
Just click and chuckle.