#EndorseThis: Seth Meyers Scrutinizes Trump Scandal Week, With Bonus Clips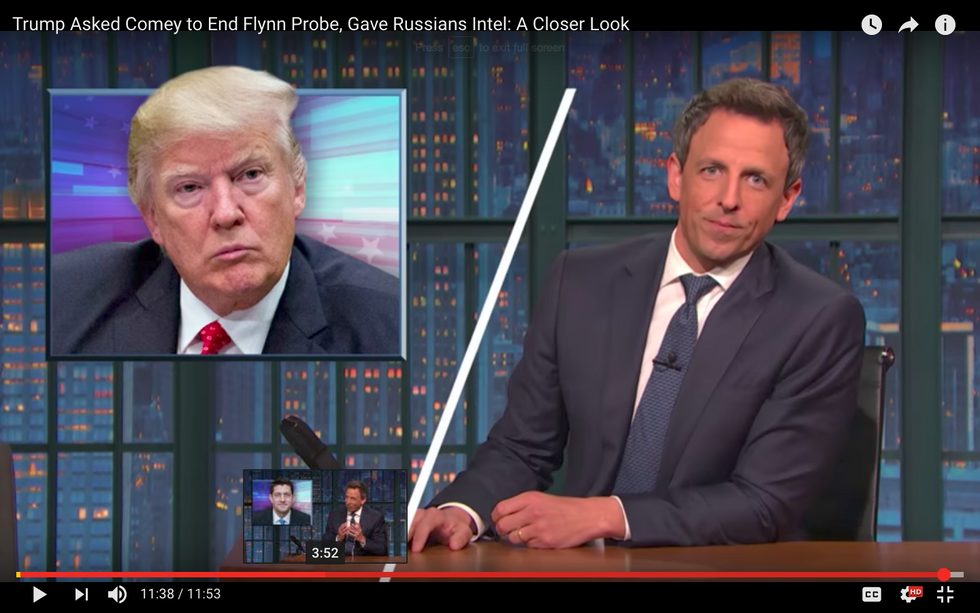 Seth Meyers offers "a closer look" at this no-good, very-bad Trump scandal week following his dismissal of FBI director James Comey — which is now culminating in open talk of impeachment in Congress. His review includes damning (and now hilarious) footage of Trump from last year, discussing the alleged violations of classification found on Hillary Clinton's email server:
"If Hillary is elected she would be be under a protracted criminal investigation, likely followed by the trial of a sitting president…the investigation will last for years,…nothing will get done…government will grind to a halt…and we will continue to suffer."
Meyers retorts, "It's amazing. The only thing he got wrong was the president's name!"
Late Night taped not long after the New York Times reported the Comey memo detailing Trump's attempt to derail the investigation of Michael Flynn last February. And Meyers has a clip of Trump from the campaign trail that describes exactly how we "continue to suffer" right now.