#EndorseThis: Trevor Noah Asks Us To Imagine How The Trump Era Might End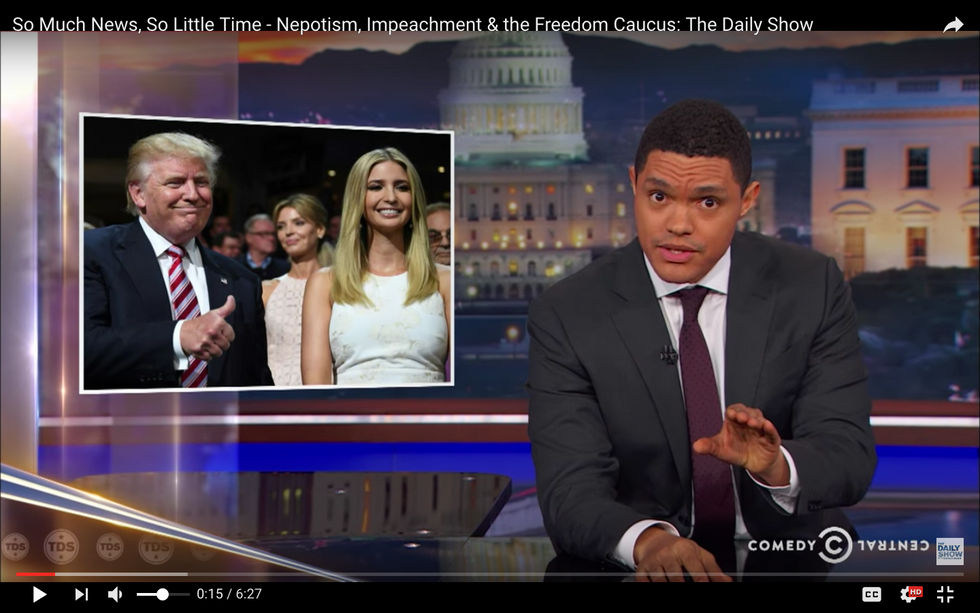 Nobody keeps closer tabs on the snarled ethics of the Trump family than Trevor Noah. In his latest, the Daily Show host recalls how only months ago, during an interview with ABC correspondent Barbara Walters, First Daughter Ivanka promised not to accept a nepotistic White House job.
"I'm going to be a daughter," she simpered, flashing that bright smile. Last week, the White House announced that she would indeed take a job as "Assistant to the President." Maybe she should have said, "I'm going to be a liar."
As for his sons, Eric and Donald, Jr are supposed to be running their father's sprawling commercial interests without any ethically compromising presidential input. But last week, Eric Trump disclosed that he would be "reporting" to his dad on the Trump Organization's business "sometime, all the time!"
Noah then reflects on recent developments in South Korea, where erstwhile president Park Geun-hye has been arrested on the corruption charges that led to her removal from office. "A president impeached, removed from office, and thrown in jail," he muses. "Imagine that…no, really, imagine…"
Yes, just imagine.