#EndorseThis: Donald Trump Loved Stephen Miller's Throw-Down With Jake Tapper. So Will You!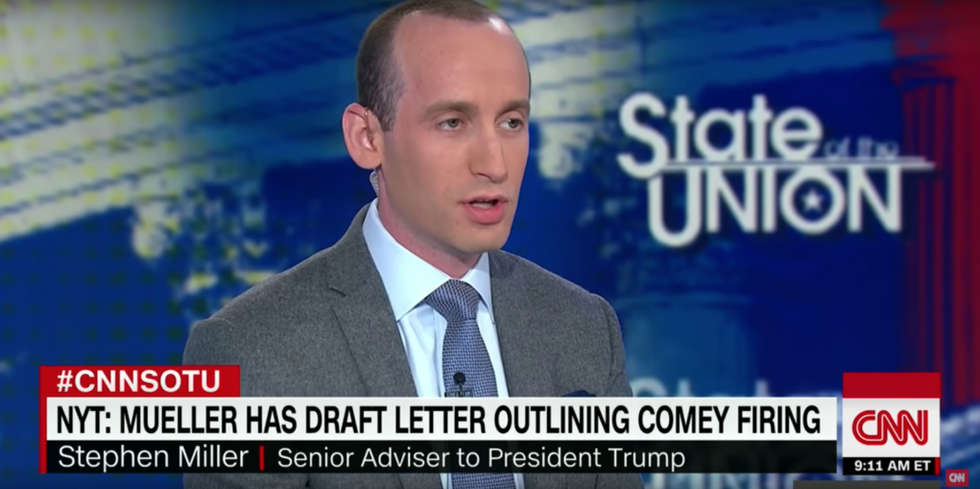 There is something touching about Stephen Miller's maniacal attempt to sell CNN anchor Jake Tapper on the genius of Donald Trump in this trending clip about Fire and Fury, the new devastating new expose of the Trump White House. But his strange, dead eyes and shifty habit of glancing down from Tapper's steady gaze don't help.
Before Miller launches into a filibuster about Michael Wolff's "grotesque work of fiction," Tapper asks him a very specific question about the infamous Trump Tower meeting that Steve Bannon described in Fire and Fury as "treasonous" and "unpatriotic." He is unable to deny that Trump himself met the Russians who offered dirt on Hillary Clinton to Donald Trump, Jr., Jared Kushner, and Paul Manafort.
Then Miller grows more and more agitated as he insists that Trump is "a genius," while Bannon is a non-person "whose role has been greatly exaggerated."
Still, it's a highly informative interview. Surely you didn't realize until now, for instance, that Trump has "tapped into something magical that is happening in the hearts of this country."
The abrupt ending is almost sad, as Miller's microphone is cut off. (He refused to leave the studio and was eventually escorted out by CNN security.) Good times!