#EndorseThis: Trump Backs O'Reilly In Sex Harassment Crisis (And Both Are Baldwin)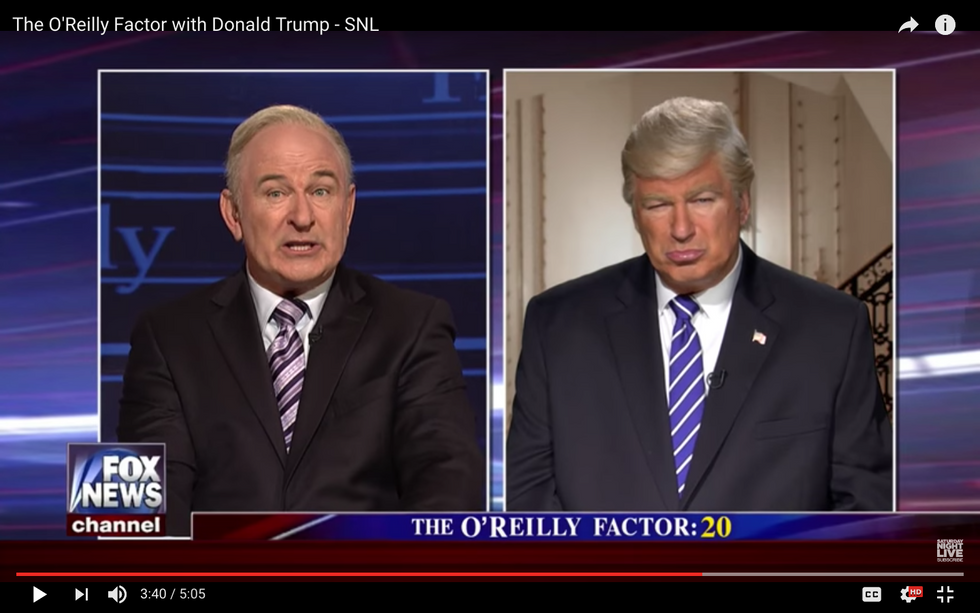 The magic of split screen allows Alec Baldwin to portray not one but two preening buffoons in a single Saturday Night Live sketch, namely Donald Trump and Bill O'Reilly. And the absurdity of this political era — when Trump leaped to defend O'Reilly over renewed scrutiny of the Fox News host's mistreatment of women — brought them together in a moment made for Baldwin and SNL writers.
The sketch opens with O'Reilly trying to cope with female Fox staff, who've fled his unwanted advances, and alluding to the advertisers now fleeing his show by the dozens over his history of alleged sexual harassment and abuse.
With typical honesty, he says, "Apparently several women have come forward and accused me of offering them exciting opportunities here at Fox. Beyond that, the details are fuzzy." Yet one man, "unimpeachable on female issues," has leaped to O'Reilly's defense.
Of course that's the president, possibly the only man who could trump O'Reilly as a pest to women: "I see a lot of myself in you, Bill."
O'Reilly replies obsequiously: "I want to thank you, Donald Trump, for promoting sexual assault awareness month." (which, incredible as it seems, is a true fact).
As Baldwin has noted ruefully, real life is almost indistinguishable from satire now. At least he can still make us laugh about it.