#EndorseThis: Trump Adviser Admits He Is "Playing Us" On Russian Hacking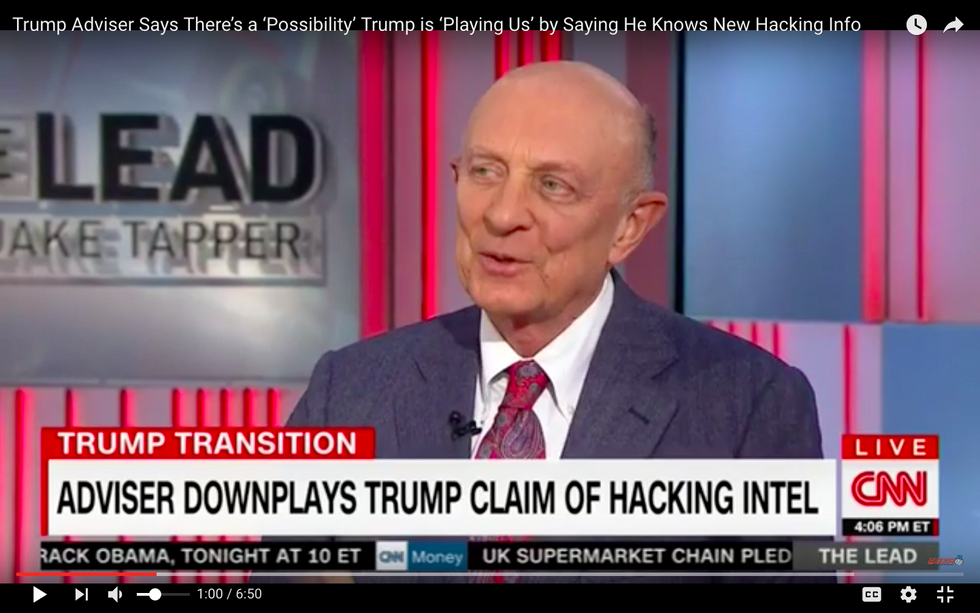 Like so many aspects of Donald Trump's impending presidency, his style of communication will require no small adjustment. Whenever he comments on important matters of national security, such as Russian hacking of the presidential election — via Twitter, of course, to ensure no inconvenient questions — we will all have to remember that he is almost certainly lying. If he says, for example, that he knows more than the intelligence community, and will reveal that fresh information in a few days, well…don't count on it.
As Trump adviser and former CIA director James Woolsey describes it in this droll CNN interview, we can expect the president-elect to keep "weaving around and attracting everybody's attention." Or as Woolsey essentially concedes a moment later — as tactfully as possible — Trump is "playing us," the American public, to deflect scrutiny from that Russian hacking outrage.
Such cheap tactics are not exactly presidential, but who could have expected otherwise from this hustler? It's still remarkable to hear Woolsey admit that his preferred candidate constantly plays these transparent tricks. Because mainstream media play along with his deceptions so reliably.