#EndorseThis: Trump Surrogate Calls For Banning Abortions For Mothers With Zika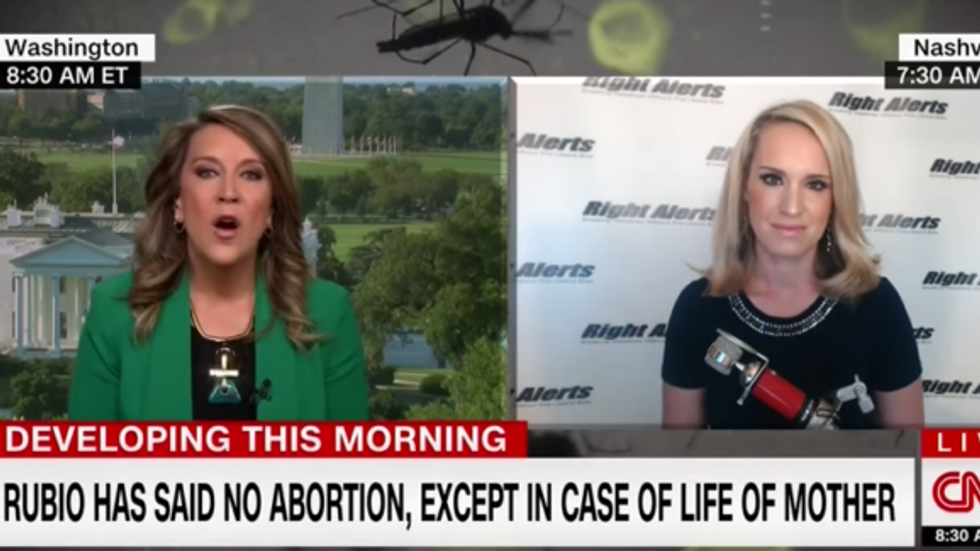 Remember Ivanka Trump's speech at the Republican National Convention? In it, she proposed policies that lined up more with the Democratic platform than the Republican one: equal pay for equal work, affordable child care, and workplace equality for mothers. As proof that her father would support these measures, she pointed to his business record and his personal ability to "see potential in others." But, despite her efforts to shore up support for her dad, his campaign has had a tough time appealing to women. Today was no exception.
Surrogate Scottie Nell Hughes appeared on CNN Monday morning to discuss the spread of Zika in Florida and Sen. Marco Rubio's opposition to abortions for pregnant women infected with the mosquito-borne virus, which can cause microcephaly.
"This is a very, very devastating disease," Hughes said, "But this is nothing new. We don't have the research. We don't know what Zika is going to do. And Senator Rubio is doing the correct thing."
It is unclear what she means by "nothing new," since the virus has only recently appeared on American soil, and although treatments are still in development, its effects are well–documented.
Hughes' comment will only further hurt Trump's popularity with the fairly consistent majority of Americans who support the legality of abortion in all or most cases (including 54 percent of moderate conservatives). It also compounds Trump's previous problems with abortion and gender-related comments. On March 30, he called for "some form of punishment" for women who have abortions — a measure opposed even by the National Right to Life Committee. He rolled back his statement soon afterwards.
The businessman's previous remarks about women have also hurt his popularity. According to a recent ABC/Washington Post poll, Hillary Clinton leads among female voters by 23 percentage points.
The CNN interview soon devolved into a shouting match with Democratic commentator Maria Cardona over the merits and faults of Obamacare. But it is worth noting that despite his long-held opposition to abortion, Rubio was one of a handful senators spearheading the stalled effort to pass a bill for combating Zika. However, the bill on the table in the Senate, which is currently on recess, blocks funds for Planned Parenthood.
Photo: YouTube/Raw Story