#EndorseThis: Watch Seth Meyers Freeze-Frame Jeff Sessions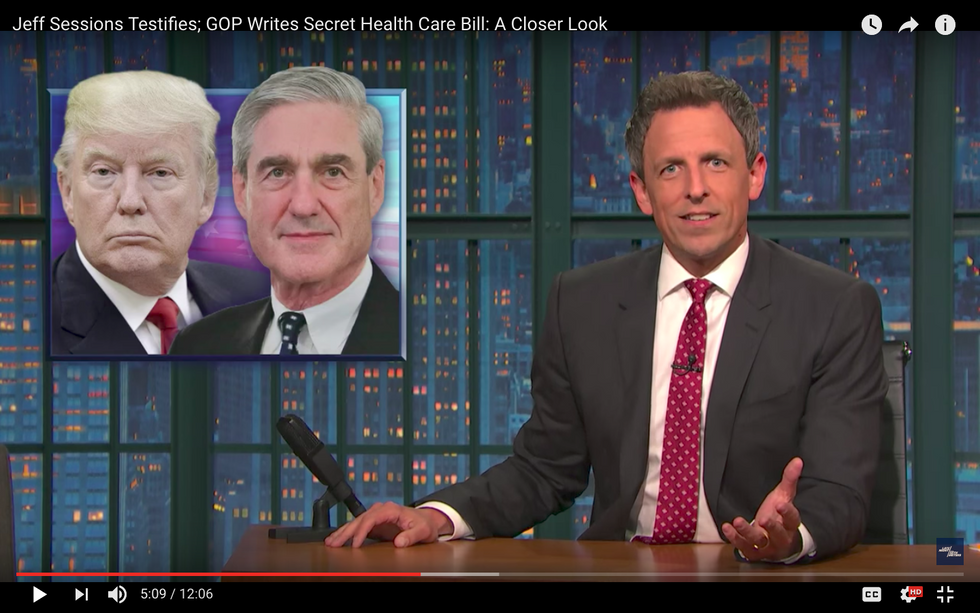 Seth Meyers tells us, in a tone of reasonable concern, that Donald Trump is watching cable news even more obsessively than usual — and demanding that Republican members of Congress appear more often on TV to defend him (a burden that few of them seem willing to shoulder). What obsesses the president, of course, is the Russia investigation. The latest rumor is that Trump has considered firing Robert Mueller, the special counsel in charge of that probe.
Dismissing Mueller would put Trump in extreme political peril, but the wise men of cable news such as Sean Hannity and Lou Dobbs are insisting that the Russia investigations be shut down immediately. As Meyers observes, that looks about as  guilty as screaming "Do you have a warrant?" when someone knocks with a pizza delivery.
Commenting on Attorney General Jeff Sessions' Senate Intelligence Committee testimony on Tuesday, Meyers flashes back to his earlier appearance before the Judiciary Committee, when he wrongly told Senator Al Franken (D-MN) that he'd had no contact with Russian officials in 2016.  Meyers freezes the camera on Sessions' face after that exchange —  a moment that is worth the click all by itself.