EPA Chief Wins Golden Padlock 'Award' For Excessive Secrecy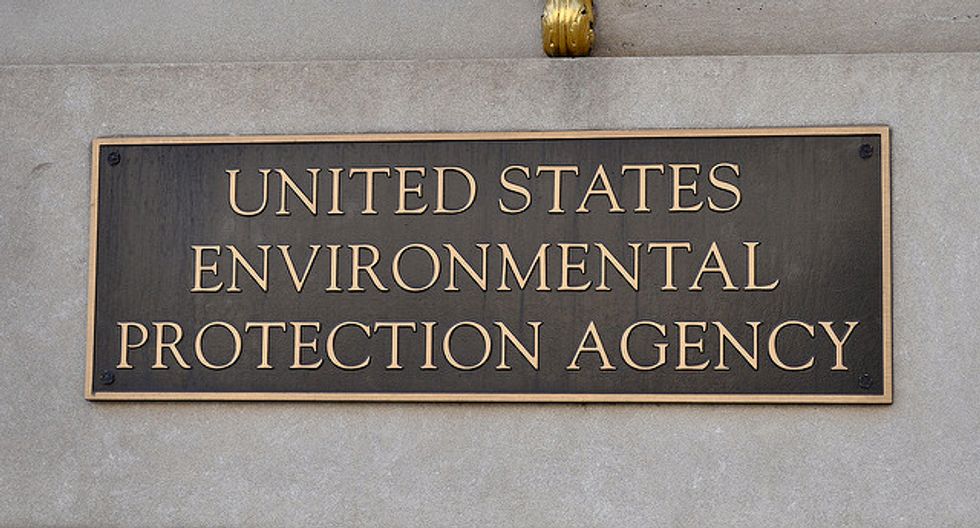 Reprinted with permission from Alternet.
As a government official, Scott Pruitt does a stellar job at keeping secrets. So far, he's evaded open record requestsabout his communications with the fossil fuel industry and has directed the EPA to wipe climate change datafrom its website.
Pruitt has become so adept at keeping the public in the dark that Investigative Reporters and Editors, a grassroots group dedicated to improving the quality of investigative reporting, has awarded him the Golden Padlock Award, which recognizes "the most secretive publicly funded agency or person in the United States."
In awarding him with this dubious distinction, IRE writes, "Scott Pruitt was selected for this honor for steadfastly refusing to provide emails in the public interest and removing information from public websites about key environmental programs."
Pruitt's penchant for secrecy in public office stretches back to his tenure as attorney general of Oklahoma. It was normal for him to ignore public records requests while using a private email account to conduct government business. A New York Times report revealed that what Pruitt was hiding in his government account was a "secretive alliance" with oil company Devon Energy, one of the largest oil and gas companies in Oklahoma. Lawyers from Devon even wrote letters to the EPA in Pruitt's name and the company subsequently donated thousands to Pruitt's campaign.
Pruitt's dodging of public records requests in recent years prompted the Center for Media and Democracy to file a lawsuit in February alleging that Pruitt violated the Oklahoma Open Records Act "for failing to provide public access to official emails and other documents for more than two years." The lawsuit also asks the attorney general not to destroy any documents that are relevant to CMD's open records requests. As a result of the lawsuit, the attorney general released 7,564 emails and other records. The lawsuit is still pending in court.
Now as the head of the EPA, Pruitt's bypassing of traditional government transparency has continued. He has begun scrubbing climate change data from the EPA's website—not surprising given Pruitt's skepticism about human-caused climate change. He has also stopped the tradition of releasing his calendar to the public, and Freedom of Information Act requests by several journalists to acquire copies of his schedule have gone unanswered. The Center for Biological Diversity filed a lawsuit in May requesting Pruitt's schedule and his emails.
The only glimpse into Pruitt's whereabouts and schedules is provided by his Twitter account, which so far has shown him meeting with executives from energy and other industry groups, as well as congressional Republicans. Lisa Rosenberg, executive director of Open the Government, an organization dedicated to government accountability, told the New Republic that tweeting is no substitute for official documents.
"It's self-selective," she told TNR. "He doesn't have to tweet all of his meetings, whereas his official public schedule is comprehensive, and able to be accessed by FOIA."
The Center for Biological Diversity said in a statement that its lawsuit against Pruitt was driven by his close ties to the oil and gas industry.
"Americans need to know if Pruitt is still playing patty-cake with the big polluters the EPA's supposed to protect us from," said Meg Townsend, CBD's open government attorney. "The agency's refusal to release these public documents suggests Pruitt is back to cozying up to oil companies and pesticide makers, at the expense of the air we breathe and the water we drink."
Pruitt regularly avoids interviews with journalists, save for the reporters from Trump-friendly networks. Reporting from E&E News noted that a majority of Pruitt's interviews have been with Fox News and its affiliates, as well as the Heritage Foundation and a conservative blogger from North Dakota.
Raising even more suspicions about Pruitt's lack of transparency are reports that Pruitt has requested a 10-person, around-the-clock security detail. This unusual request, a first of its kind for an EPA director, suggests a bit of paranoia may be fueling Pruitt's penchant for secrecy in office.
A Medium article by Roger Kotila, vice president of the Democratic World Federalists, suggests that "secrecy breeds paranoia."
"Openness builds trust," Kotila wrote.
Pruitt is not the only White House official who prefers secrecy to transparency. Pruitt's concealing of what should be publicly available information follows a trend in the Trump White House of keeping journalists and the public in the dark.
In April, the administration announced it would no longer voluntarily release White House visitor logs, a practice that began under President Barack Obama. Off-camera press briefings are becoming more common, and Press Secretary Sean Spicer has forbidden video and audio recording during briefings several times.
For about a week, Senate Republicans worked on a top-secret health care bill without sharing any details with the press, the public and even members of their own party. And on top of it all, Trump still has not released his tax returns, despite earlier promises to do so.
Under the Trump administration, the federal government is turning into a secret society. But no one is more secretive than Scott Pruitt.
Celisa Calacal is a junior writing fellow for AlterNet. She is a senior journalism major and legal studies minor at Ithaca College in Ithaca, New York. Previously she worked at ThinkProgress and served as an editor for Ithaca College's student newspaper. Follow her at @celisa_mia.
This article was made possible by the readers and supporters of AlterNet.