EPA Proposes Huge Carbon Emission Cuts For Heavy Trucks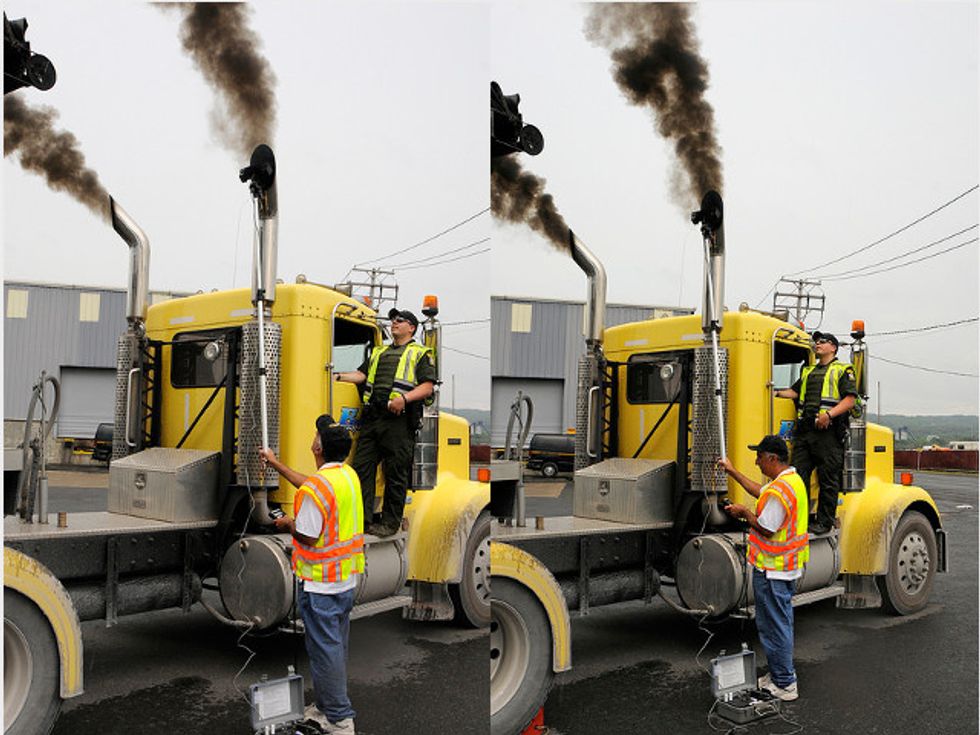 By Greg Gardner, Detroit Free Press (TNS)
Federal regulators are proposing that manufacturers of medium and heavy-duty trucks reduce carbon emissions by 1 billion metric tons and cut fuel costs by about $170 billion by next decade.
The U.S. Environmental Protection Agency and the National Highway Traffic Safety Administration came up with the standards that will now face a period during which industry and environment groups will comment. The standards could be revised.
The agencies are asking for a cut in carbon emissions between 2021 and 2027 that would be nearly equal to the greenhouse gas emissions from all U.S. residences in one year. The fuel-efficiency targets would save more oil than what the U.S. currently imports annually from the Organization of Petroleum Exporting Countries.
"Once upon a time, to be pro-environment you had to be anti-big-vehicles. This rule will change that," said U.S Transportation Secretary Anthony Foxx. "In fact, these efficiency standards are good for the environment – and the economy. When trucks use less fuel, shipping costs go down. It's good news all around, especially for anyone with an online shopping habit."
The fuel economy and emission standards would cover more than 7 million tractor trailers and other types of heavy-duty trucks that haul most of the nation's goods. These rules will require manufacturers to use new technology that could add as much as $14,000 to the cost of making a new truck, according to the Owner-Operator Independent Drivers Association.
Mark Rosekind, NHTSA administrator, said a truck operator who bought a new rig in 2027 would recover the cost of meeting the proposed standards in about two years through fuel savings.
The standard would be defined in terms of increased freight hauled per fuel consumed, Rosekind said. The emission requirement would be set in terms of grams of carbon dioxide released per mile. Neither Rosekind nor EPA official Janet McCabe would provide a specfic target.
But the Obama administration is intent on establishing policies that will accelerate the reduction in emissions of carbon dioxide, the most common greenhouse gas associated with contributing to climate change.
"We're delivering big time on President Obama's call to cut carbon pollution," said EPA Administrator Gina McCarthy. "With emission reductions weighing in at 1 billion tons, this proposal will save consumers, businesses and truck owners money; and at the same time spur technology innovation and job-growth, while protecting Americans' health and our environment over the long haul."
Medium- and heavy-duty vehicles currently account for about 20 percent of greenhouse gas emissions and oil use in the U.S. transportation sector, but only represent about 5 percent of vehicles on the road. Globally, oil consumption and greenhouse emissions from heavy-duty vehicles are expected to surpass that of passenger vehicles by 2030.
The United States is working with other major economies to encourage progress on fuel economy standards in other countries, which will improve global energy and climate security by reducing reliance on oil.
(c)2015 Detroit Free Press. Distributed by Tribune Content Agency, LLC.