EU Steps Up Russia Sanctions As '1,000 Troops' Remain In Ukraine
@AFP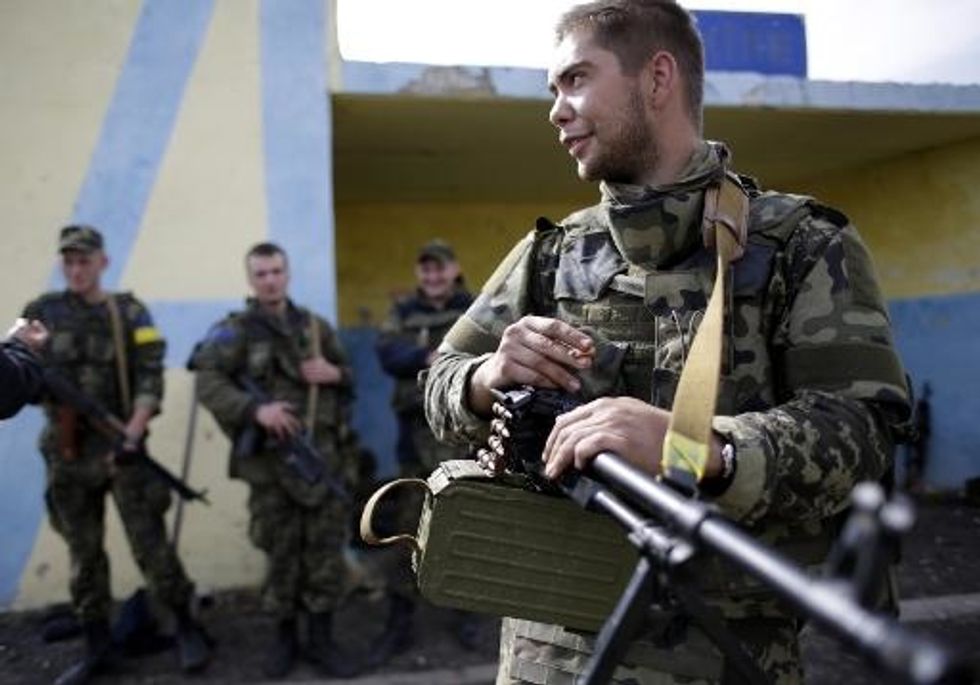 Kiev (AFP) – The European Union has agreed to slap a new round of sanctions on Russia on Friday despite a fragile ceasefire in Ukraine, where NATO said Moscow still had 1,000 troops on the ground.
Diplomatic sources in Brussels said EU member states decided Thursday to go ahead and implement the threatened punitive measures after heated debate on the timing because of the truce agreed last week by Kiev and the pro-Russian separatists.
The announcement came as the Ukrainian authorities acknowledged that the insurgents had extended their control over territory on the eastern border to the Sea of Azov after a lightning counter-offensive late last month.
In the days before the ceasefire came into force last Friday, the separatists had swept south — reportedly backed by elite Russian troops and firepower — in an attempt to secure a land corridor from the Russian border to annexed Crimea.
Some EU member states — wary of further economic reprisals by by Kremlin — had said they wanted to wait and see what happened on the ground in Ukraine before imposing the new measures that target Russia's stagnating economy.
Thursday's announcement sent the ruble plunging to a new record low.
NATO said last month that Russia had funneled in at least 1,000 elite troops and heavy weapons in what some described as an invasion by stealth to bolster the rebel surge that dramatically reversed recent advances by the Ukrainian army.
But in surprise announcements Wednesday seen as helping sustain the peace pact, Ukrainian President Petro Poroshenko pledged greater autonomy for the separatist east and said Russia had withdrawn 70 percent of its forces.
The withdrawal would be "a good first step" if confirmed, a NATO military officer said in a statement to AFP.
But "the fact of the matter is there are still approximately 1,000 Russian troops in eastern Ukraine… and approximately 20,000 troops on the Russian border".
Washington also described Poroshenko's comments on the troops as "a good, tiny first step" but said it was unable to verify what would be a potentially significant development in the five-month crisis.
The stepped up sanctions against major Russian businesses and allies of President Vladimir Putin reflect deep Western concern over Moscow's territorial ambitions.
Putin has accused NATO of making up the charges over its involvement in Ukraine to justify its decision to deploy a new force in eastern Europe and encroach on Russia's western frontier.
"The crisis in Ukraine, which was basically provoked and created by some of our Western partners, is now being used to revive this military bloc (NATO)," Putin said.
Rattling the truce, Kiev said Thursday that its military positions had come under attack 20 times in the past 24 hours, while AFP correspondents reported hearing artillery fire overnight near the main insurgent bastion of Donetsk.
But Poroshenko said the ceasefire — the first backed by both Kiev and Moscow since the insurgency erupted in April — had nevertheless dramatically improved security in the war-ravaged industrial rustbelt.
Elected in May on a promise to crush the rebellion and preserve Ukraine's unity, Poroshenko also waded into explosive political territory by promising to submit a bill to parliament granting parts of the east temporary self-rule.
He stressed this did not mean that the rebel-held territories were slipping from Kiev's control.
"Ukraine will not make any concessions on issues of its territorial integrity," he said.
But the number two in the separatist leadership of Donetsk said the rebels still planned to seek outright independence from Kiev.
"We are not considering remaining part of Ukraine," Andrei Purgin told AFP.
Friday's truce was signed in the Belarussian capital Minsk after months of warfare that has killed more than 2,700 people and forced at least half a million from their homes.
Kiev said the lives of eight Ukrainian servicemen and one civilian had been lost since Friday.
Sanctions were ratcheted up by Brussels and Washington after the July downing of a Malaysian jet over rebel-held territory that claimed 298 lives and raised concerns about Russia's alleged military support for the revolt.
A preliminary report by Dutch investigators Tuesday did not apportion blame over the crash but appeared to back claims the plane was hit by a missile.
Kiev and Washington believe it was blown out of the sky by a Russian-supplied ground-to-air system, but Moscow said Kiev bore "full responsibility" for the disaster.
AFP Photo/Anatolii Stepanov